V3.1 Overview
Keep an even closer eye on your visibility trend
with the new, improved OVI
The Online Value Index (OVI) expresses the the visibility of a website in Google and other search engines as a simple, concrete figure. Previously, the OVI was calculated based on a dynamic, general database. Since the databse contained few regional, niche keywords, we decided to let our customers add their own keywords to the database. Now the database is continually updated by users out in the real world, rather than just by us sat in the office, and the visibility of the affected domains has changed accordingly.

You can now measure the development of your domain more closely with the new static OVI, calculated based on a core of 500,000 important keywords from key sectors including retail, travel, finance, insurance, education, health, etc. The biggest advantage of the static OVI lies in the value of the keywords. In contrast to the dynamic OVI, the static OVI only takes into account those keywords with the highest search volumes. Further detailed information about the new static OVI can be found on out new info page.
Expanded domain analysis options
Analyse sub-domains and folders with in a domain
The expanded domain analysis options are also new. Previously, users could only analyse a top domain via the Domain Analysis or particular subdomains via the URL Analysis. XOVI users now have new analysis options which will help reduce the workload in future. Using the "All domains, all directories" analysis, XOVI analyses the entire domain including all related subdomains and directories. An analysis of apple.com for example will provide key data for all subdomains such as itunes.apple.com, jobs.apple.com, etc. XOVI displays all key figures for the domain including OVI, CPC, search volume and number of ranking keywords. If you require a more detailed analysis of a specific subdomain or directory, select the corresponding option or analyse an exact URL.

Automated On-Page Reports
Especially for agencies
Previously it was quite time-consuming for agencies to produce individual on-page reports for their customers. In V3.1, it's possible to tailor on-page reports to individual contacts which you have added to the address book and send your clients personalised on-page reports. On-page reports can also se dispatched as white label. Change the logo, colours, headers, footers and even the email sender - so they never have to know the data has come from us!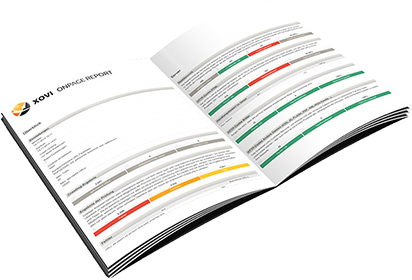 More countries available in Keyword Monitoring
196 countries
Back in 2011, XOVI offered daily tracking in 29 different international Google variants in its Keyword Monitoring tool. Since then, new search engines such as Bing and Baido as well as even more countries worldwide and regional search have been added to XOVI's capabilities. Now, in V3.1, users can monitor their keywords in a total of 196 different international and regional search engines. Language variants for certain multilingual countries are also available. For Switzerland, for example, XOVI offers google.ch monitoring in German, French, Italian, English and Romansch.
Improved performance
Especially for large domains
When we first started out back in 2009, we only analysed 1 million keywords per week. This worked out at approximately 100 million data points - not a huge amount by today's standards. Now in 2015, that has increased to well over 500 million data points from several million domains. To cope with this ever increasing mass of data, we have revamped our database. XOVI now allows for rapid analyses of even the biggest sites such as Amazon, YouTube, Facebook and many more.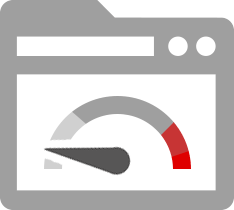 Identify visibility trends
and take appropriate measures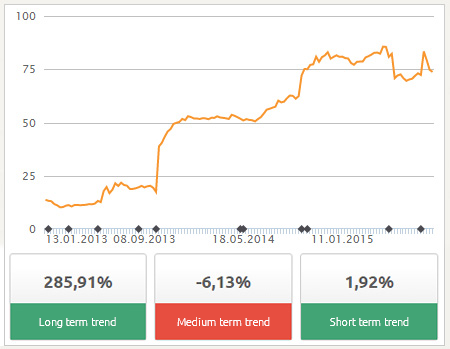 Simple analysis of chart trends against the previous week or month provide a relatively limited picture of actual changes in visibility. With XOVI's new trend function, short, medium and long term trends are much easier identifiable. Especially for agencies dealing with clients who want to see the big picture, this allows for much more comprehensive analysis and makes it possible to react more accurately and more swiftly to changes. When it comes to large, long term SEO projects, it's important to be able to visualise the entire visibility trend over the course of optimization to avoid placing too great an emphasis on short term peaks or troughs.