Keyword research is a key aspect of any SEO strategy. What are users looking for when searching around my particular topic? What information should my website be providing in order to offer users real value? How can I increase the relevance of my content for search engines to ensure high rankings for my domain?
Traffic alone isn't enough – it has to be genuine, qualified traffic. In other words, traffic from users who find exactly what they are looking for on my website, answering their initial Google query in one go. After all, visitors who end up on your page by accident or in error are unlikely to make a purchase or other conversion.
User satisfaction increases user stay on a website. The bounce rate drops and the conversion rate – ideally – soars. Whether selling more products from my online shop, receiving more requests for my service or generating new leads in the form of newsletter sign-ups, suitable traffic is better than any old traffic.
In this blog entry, we present a few ideas for when it comes to putting together a strong keyword set for your SEO strategy.
1. User surveys / support requests / social media comments
If you already have an established dialogue with your customers, use this information to boost your keyword set. Which questions are asked most frequently in support? What do customers talk about when they leave comments on your Facebook page? Do you receive any interesting feedback on Twitter? Send out a customer survey or, if possible, speak to your customers directly and ask them how they found out about your business or brand.
2. Brainstorming / mindmapping
One frequently forgotten or underused tip for discovering new keywords – use your head! Go old school with your classic pen and paper and create a mind-map. Write the name of your topic in the centre of the page and then note down everything that you associate with it. Ask colleagues, friends and family to get involved too and you'll quickly see that the old ways sometimes really are the best.
3. Google search
Ever noticed that Google automatically suggests keywords when you begin to type something into the search box? Of course you have. An algorithm is used to display the most frequently searched for terms which start in the same way you have. It's as clear an indication as any of what users are searching for.

Try using question words to generate more clues:

4. Suggest tools
The usual Google auto-complete (see no 3) is known as Google Suggest. But you have other tools at your disposal too which help you to find different types of keywords. Here are the results for the keyword "smartphone" on https://www.hypersuggest.com/ for example: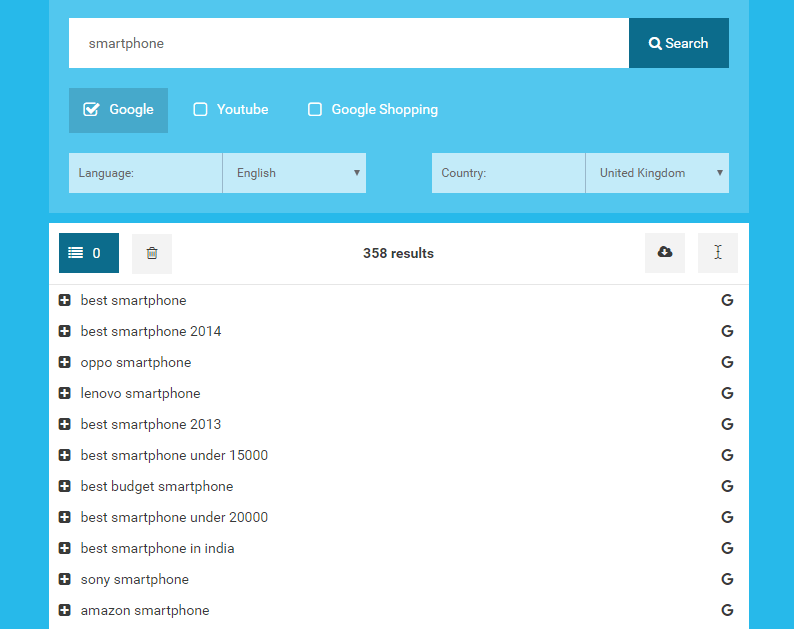 The tool identifies almost 700 results from which you can gather ideas. Data here comes from Google too but YouTube and Google Shopping are also included.
5. Competitor Analysis in the XOVI Suite
Of course, XOVI is also extremely helpful when it comes to keyword research! The key here is to have a look at what your competitors are up to. Let's say I run an online shop for smartphones. I can use XOVI to see what keywords my smartphone selling competitors rank highest for and perhaps glean a few ideas from them. Simply enter a competitor domain in XOVI and head to Keywords > All Keywords. Sort the results by search volume to see what keywords users enter before they end up on a rival website!
6. Google Keyword Planner
Google offers AdWords users a tool which calculates keyword search volume, the so-called Keyword Planner. Although a Google account and an AdWords account are required, you don't actually have to place an ads in order to use the keyword planner. In the following example, we've entered a few smartphone-related keywords to find out their search volumes.
The bar chart shows the development of search volumes for queried keywords throughout a 12 month period, in which seasonal fluctuations are also visible. When it comes to smartphones, we can see that there is particularly high demand between November and January, which can be put down to Christmas shopping and the exchange/return period which inevitably follows!
7. Google Trends
Have you heard of Google Trends? Another free tool from Google, Google Trends calculates how the number of searches for a particular keyword have changed. Results can be tailored regionally and comparisons are also possible. When it comes to identifying current search trends, this tool should be your first port of call. After all, there's no point structuring your strategy around a keyword which is on a downwards trend.
Let's take the keyword "selfie stick" for example, which has benefitted from huge hype over the past year. All sorts of media reported on the gadget and the search queries shot into orbit. After a short dip, the trend seems to have picked up again.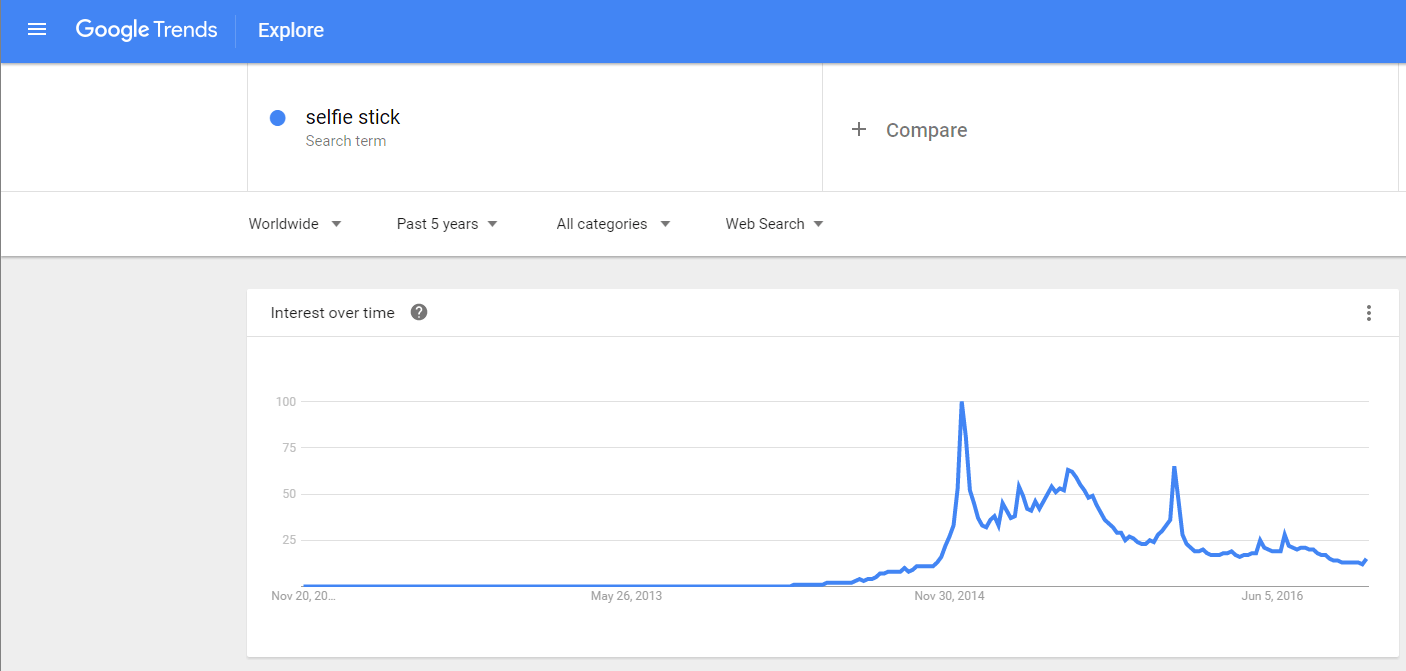 Try narrowing down the time period even further. Enter "X Factor" for instance, and you'll see that the period in which searches peaked coincided with the period in which the last series was broadcast.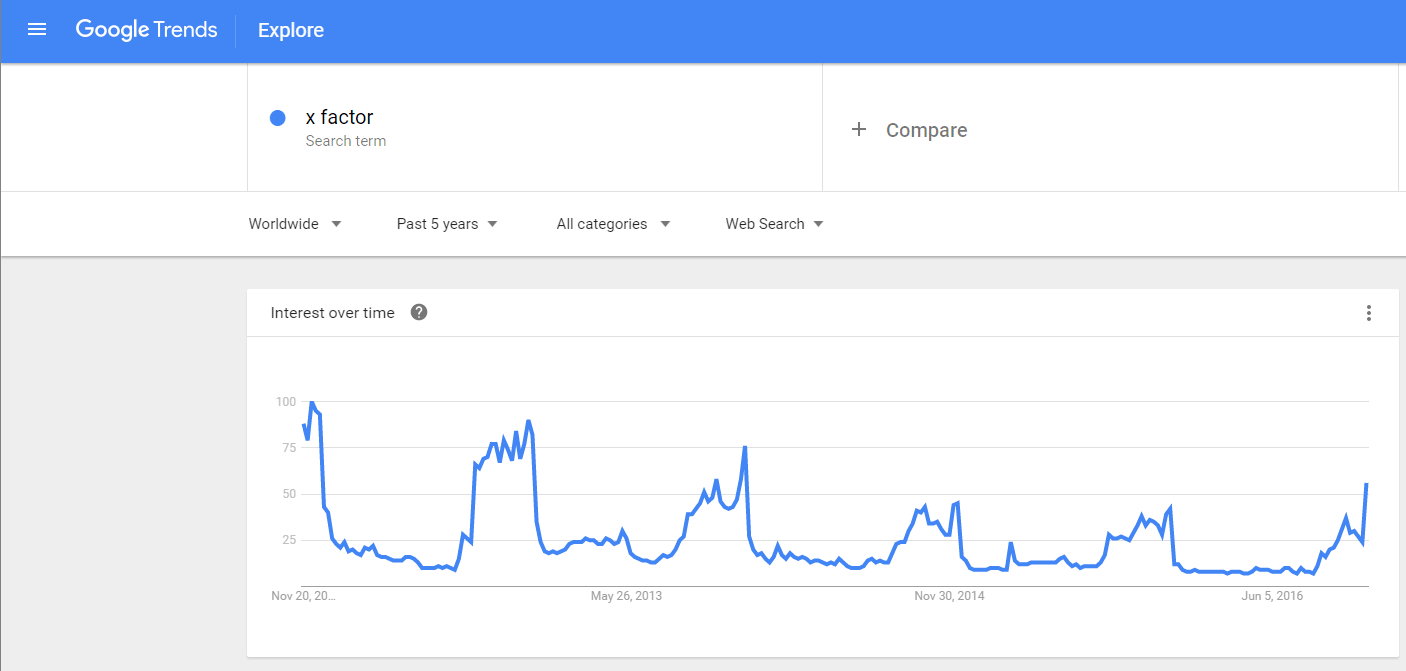 8. The XOVI Text Optimization Tool (WDF*IDF)
The in-built text optimization tool in the XOVI Suite is perfect when it comes to expanding your keyword set, and can be found within the On-Page Tool. Simply enter a URL which you would like to optimize and name an important keyword. Using the top 10 Google search results for this keyword, XOVI then reveals which search queries are also frequently used in this context and displays them in a handy diagram. Are there any new ones there which catch your eye? Try them out in your own keyword strategy.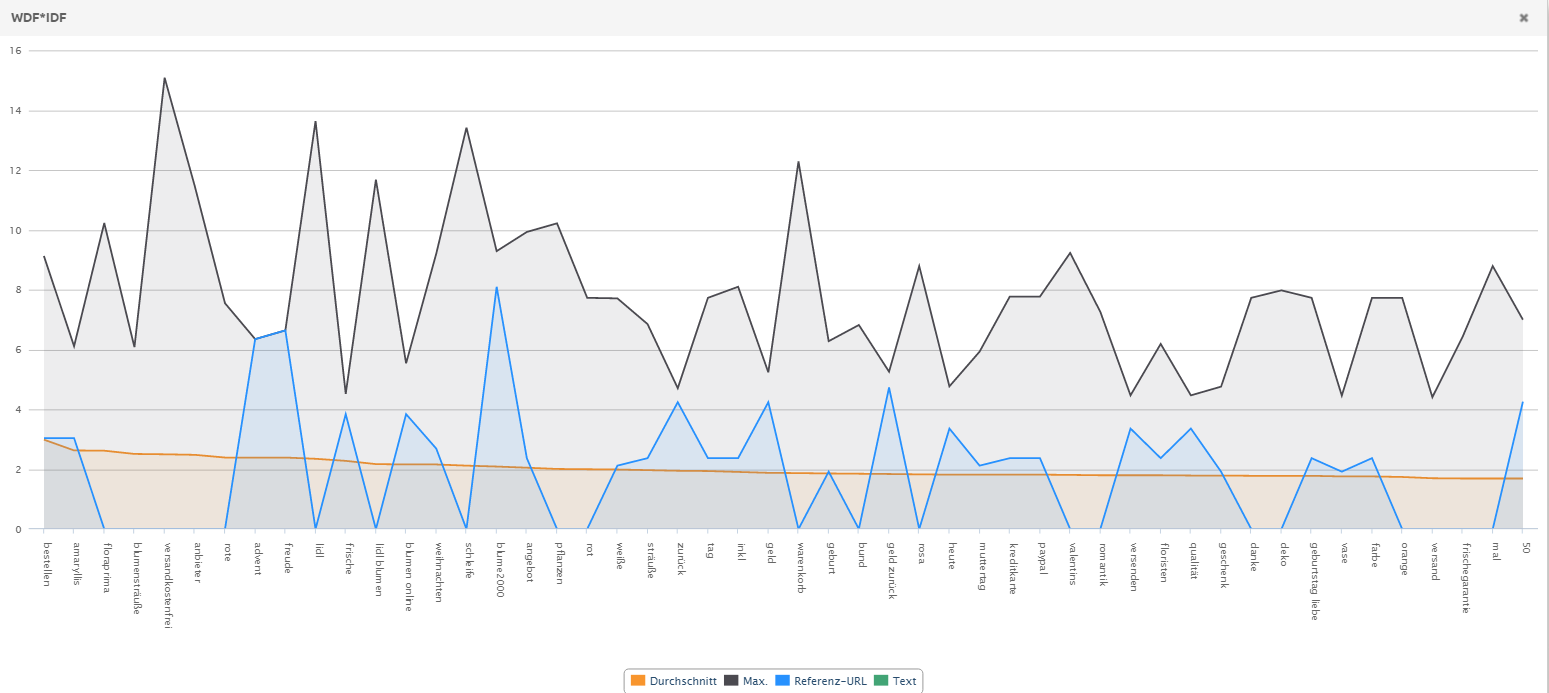 Conclusion
So there you have it – a non-exhaustive range of useful methods to uncover new keywords for your SEO strategy and boost your optimization. Now it's time to try some of them out – have fun and good luck!