XOVI has been providing SEO tool since 2009 and has established itself as a leading software provider in the SEO industry. XOVI is not simply an SEO tool, but is better described as an Online Marketing Suite. In addition to keyword research, keyword monitoring and backlink tools, XOVI also provides social components and an internal project management interface, making it ideal solution for all your website optimization needs.
Up to date and informative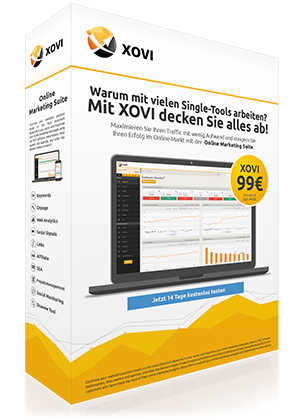 XOVI's powerful tools analyse all sorts of Google data on your website and present it to you clearly and concisely, enabling you to implement measures to give a long term boost to your rankings and content. Whether search engine optimization or PPC, the SEO tools from the XOVI Suite have all bases covered and are continually being expanded to suit the needs of our customers. And what's more, you don't even have to install any software! All the data for all your projects and domains since 2009 is available to view online anytime and anywhere. A free tool is available, too. With the XOVI Expert Panel and our SEO Blog, we are with you every step of the way with articles, blogs, tips, guides, practical examples and case studies. Don't underestimate the importance of SEO and a good onpage and offpage set up. From pagespeed to link building, no website is perfect and there are always improvements to be made! It's just a case of selecting the right tool for the right job, and with the all-in-one online marketing suite from XOVI, you can cover all angles. As well as keywords, links, SEA and social analytics, make use of XOVI's powerful link disavow tool to clean up your backlink profile. And if you're not convinced, test us out for free for 14 days – and simply walk away if we're not for you.