Did you know that 98 out of 100 visitors will leave your website without buying or subscribing? Therefore, only 2% will purchase, sign up or request a quotation.
All digital marketers recommend: don't let past visitors who didn't convert leave your site without following them up. That's why Facebook and Google AdWords remarketing has became more and more popular as well as additional services that enable you to communicate with your past visitors while they're browsing other websites. Using these techniques, you can recover on average about 2% of lost visitors.
Email marketing continues to be important as a tool for connecting with past visitors – it's practically compulsory for all online businesses. If you gather your visitors' email addresses, don't forget to send them a follow-up email. Using a well designed and automated email campaign, you can convert on average 3-4% of past visitors into buyers.
Looking beyond traditional remarketing and email campaigns, there's another solution which can convert more of your visitors into valuable leads or even customers. What's more, there's no need to wait until your visitors leave your site – this solution works by targeting visitors right before they leave. The solution is called 'onsite retargeting' and it's so powerful, it can recover up to 15% of potentially lost traffic. Let's take a closer look to see how it works.
What is Onsite Retargeting?
Onsite retargeting works by monitoring the behaviour of visitors on your website, and when their behaviour indicates they are ready for an additional message, it is displayed to them, usually in a popup overlay.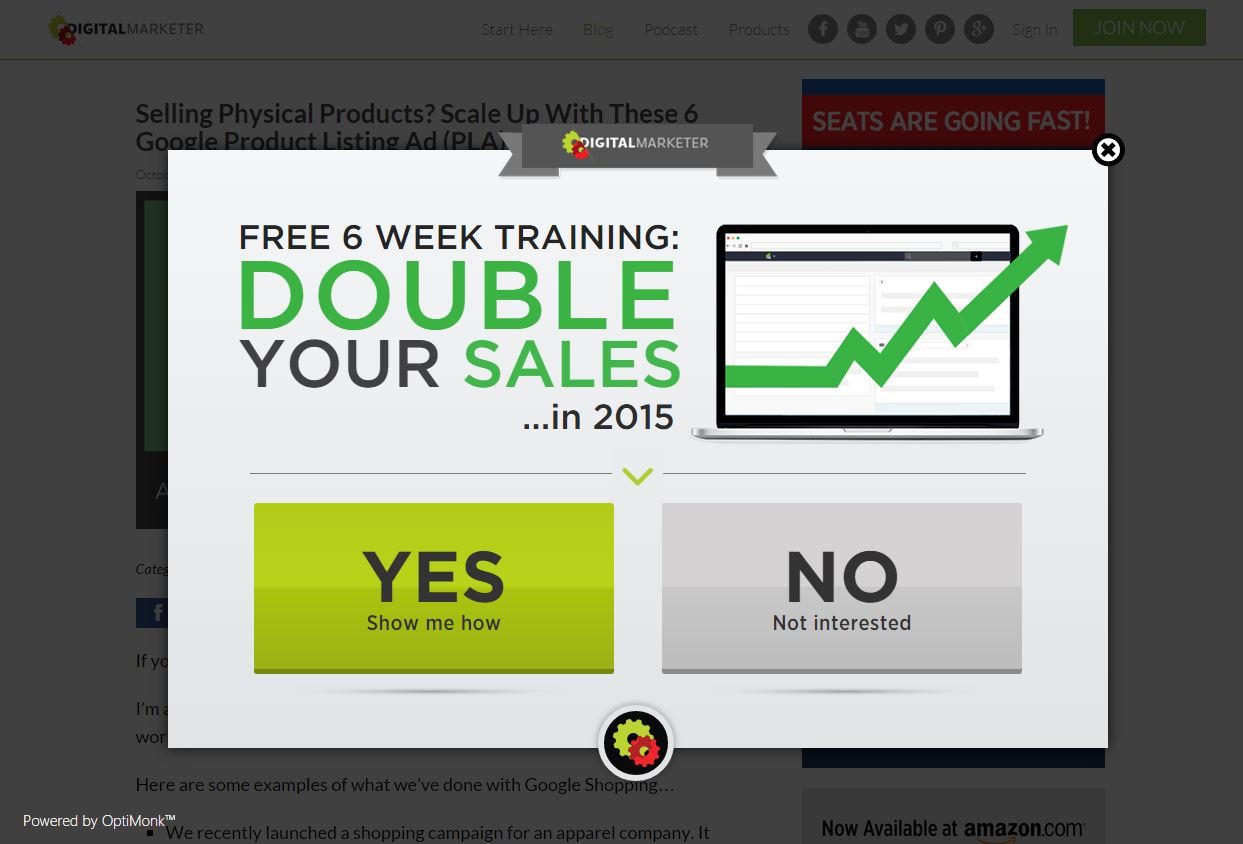 By using onsite retargeting, all online businesses can boost their chances for conversion – and their number of quality leads as well.
For instance, you can provide an incentive for your visitors to purchase immediately, or you can sign them up to your newsletter and generate more sales in the future. By presenting a secondary message this way with onsite retargeting, you are effectively doubling your chances for conversion!
'Exit-intent' technology is probably the best example of onsite retargeting, used to predict when a visitor's behaviour indicates they plan to leave or exit your site. This technology typically works by monitoring the movement of the mouse. When the system detects that a visitor is about to leave your site, a secondary message pops up to persuade them to sign up or purchase immediately, perhaps accompanied by a special offer.
Onsite retargeting can also be triggered based on other visitor behaviours. For instance, when a visitor scrolls to the end of a web page, but takes no further action, this may indicate they've read all the content on the page and they are ready for a secondary message.
Now that we know a little bit about how onsite retargeting works, let's put it to use and look at some tips for using this solution to increase your conversion rates.
1. Promote micro-conversions or 'soft' conversions
Onsite retargeting gives you a second chance to communicate with visitors who didn't show any interest in your primary message, based on their behaviour on your site.
For this reason, your goal shouldn't be selling something to your abandoning visitors – they've already shown they're not interetsed. No, you need to convince them to complete an easier conversion goal instead. Use one of these methods to persuade your visitors to provide their contact details so you can send them further marketing messages via email:
Newsletter subscription: Ask your visitors to sign up for your newsletter. It's sensible to offer your visitors something in exchange for signing up. For instance, special rewards, discounts or a small gift, such as…
Discounts, coupons or other incentives: Offering coupons is statistically one of the most effective types of onsite retargeting campaigns. It's more efficient to provide a percentage discount rather than offer a fixed price reduction. Other incentives include package deals and free shipping.
Free giveaway (e.g. eBook, checklist, consultation): Provide useful resources for your visitors in the form of freely downloadable material such as an eBook or white paper you've prepared, or a free personal consultation. If your giveaway is interesting and useful enough, your visitors will provide their email address.
Another effective micro-conversion goal is traffic direction, or rather re-direction. Start by analysing your traffic and then direct visitors who try to leave a page with a high bounce rate towards one of your better converting pages.
Here's a great example from Bamboo Village, promoting the newsletter subscription as the primary offer. However, it also communicates a special offer that's only available to subscribers: 10% off the subscribers' first order. This discount provides a huge boost for the conversion rate of their onsite retargeting campaign.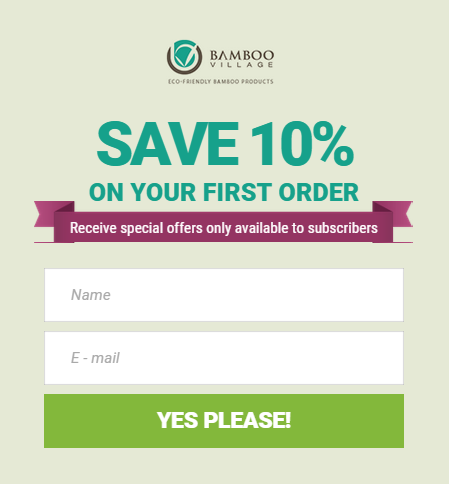 2. Personalise your messages
When editing the content of your onsite retargeting messages, including the text, pictures, and main offer, bear in mind that the best messages are customised. Customisation allows you to communicate the most relevant information to individual visitors in your messages.
Fortunately, one of the greatest things about onsite retargeting is that it has a strong personal impact for visitors. However, the more visitors you have, the harder it is to communicate with each person individually. So the question is: how to communicate effectively with a thousand, ten thousand, or even one million visitors each day?
The answer is simple: segmentation and personalisation.
Let's start by taking a look at the image below which presents the 6 stages of the decision-making process that each visitor goes through. Also known as the 'sales funnel', it describes your customers' needs, wants, or frame of mind during any particular part of the purchasing process. To be able to strengthen your relationship with your customers and increase your sales, your messages should be customised for buyers in each of these stages.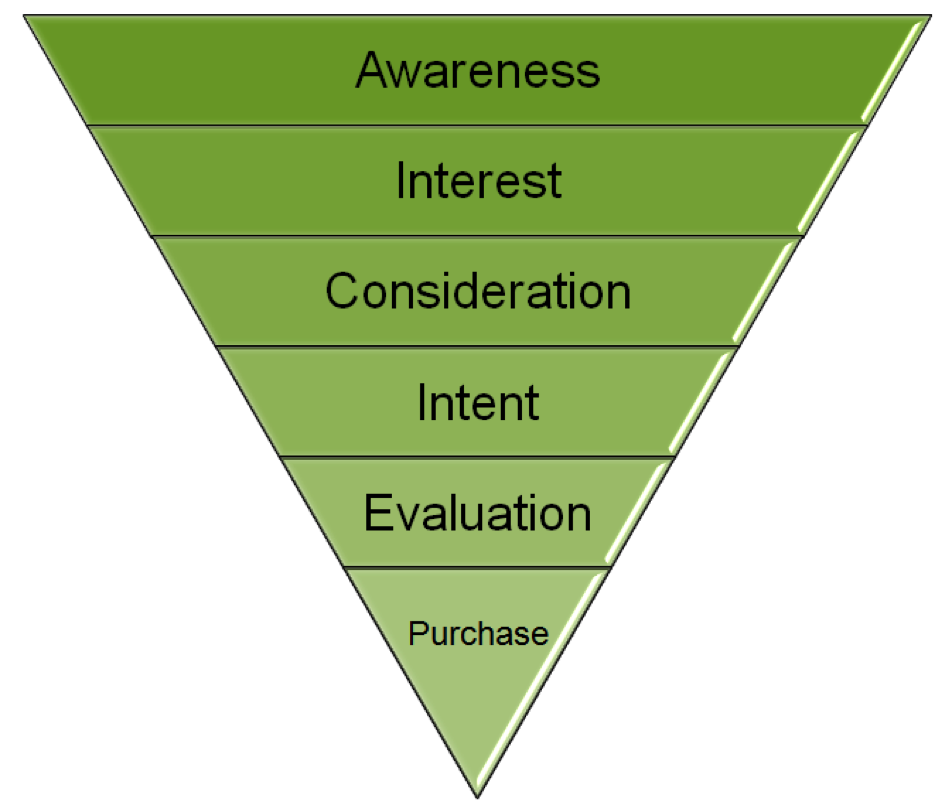 Why? Since most of your visitors will not be ready to buy the first time they visit your site, it's more effective to push your sales messages to the visitors who are in more advanced stages of the purchasing process – those who are already at least considering buying a solution for their needs. Early-stage visitors can be targeted using signups and 'soft conversion' techniques.
Let's have a look at a few of the ways that segmentation enables you to present the most relevant messages to your visitors at any stage in the purchasing process:
New and returning visitors: Differentiating between new and returning visitors really matters and this is the best place to start segmenting your audience. For first-time visitors, your primary goal should be to increase their engagement with your brand and awareness of your offer. Returning visitors on the other hand are more engaged visitors who are more familiar with your business and your offer. For this reason, you should start by setting different onsite retargeting campaigns for new and returning visitors.
Interest-based targeting: Middle-stage users, or users departing midway through the purchasing process, usually spend more time on your website and visit more pages. This allows you to analyse their behaviour and find out what they're interested in.Here's a simple example of how this technique works: when people visit a page about peanut butter, we can safely assume they are interested in peanut butter. When they visit a page about jelly, we can assume they are interested in jelly. So plan your interest-based targeting accordingly.This technique generated almost 3000 leads for the popular digital marketing guru, Digital Marketer, in only 14 days! To achieve these results, they configured their onsite retargeting campaigns based on their visitors' interests. When a user visited a page that had 'facebook' in the URL, a Facebook-related offer would trigger instead of the generic offer. When visitors showed an interest in blogging, a blog-related giveaway was shown.
Promote free giveaways for middle-stage users: For visitors at the Consideration or Intent stage, your most important goal is lead generation – email or remarketing list building. To be able to gather these middle-stage users' contact details, you need to promote educational and useful resources: webinars, events, discounts or coupons, or even quizzes and surveys.
Offer unique rewards for cart-abandoning visitors: Your most engaged prospects are late-stage users who are near the end of the purchase process. In their case, lead nurturing, increasing the cart value and then, their buying frequency, are your most important goals.Particular attention must be paid to cart-abandoning visitors who put an item in their cart and then try to leave your site without buying. You can offer unique rewards to recover these lost customers and reduce your cart abandonment rate.Here's a great example from Coffee For Less. When a visitor puts something in their cart but then tries to leave the site without buying, a popup overlay will appear. It promotes $5 off and free shipping to convince visitors to complete the checkout.

In addition to the popup, Coffee For Less also shows a nanobar, or notification bar, at the top of their website that reminds their visitors to complete their purchase. Plus, they've added one more powerful detail to their onsite retargeting campaign: there is a countdown timer in the nanobar that increases the sense of urgency, encouraging customers to complete checkout as quickly as possible.
3. Use two-step opt-in
According to research, the average visitor prefers to select from 2 simple alternatives first, rather than fill in one or more input fields. It's more convenient and actionable to click one option, and then type in a name and email address.
Quality lists can be built if you use two (or more) steps for opt-in. Instead of placing all the information related to the subscription offer in only one popup, use multi-page overlays to measure your visitors' interest starting with, for example, a simple 'YES or NO' popup.
After clicking on the YES button on the first 'YES or NO' popup, your visitors are more engaged, and that increases the chances of them subscribing when you place one or more input fields on the second page.
Here's a well-designed example from BoomByCindyJoseph.com, who use a three-step popup to gather newsletter subscriptions. Instead of asking their visitors to enter their contact details immediately, they use a simple 'YES or NO' popup first to gauge whether visitors are interested in their 'BOOM Club' membership: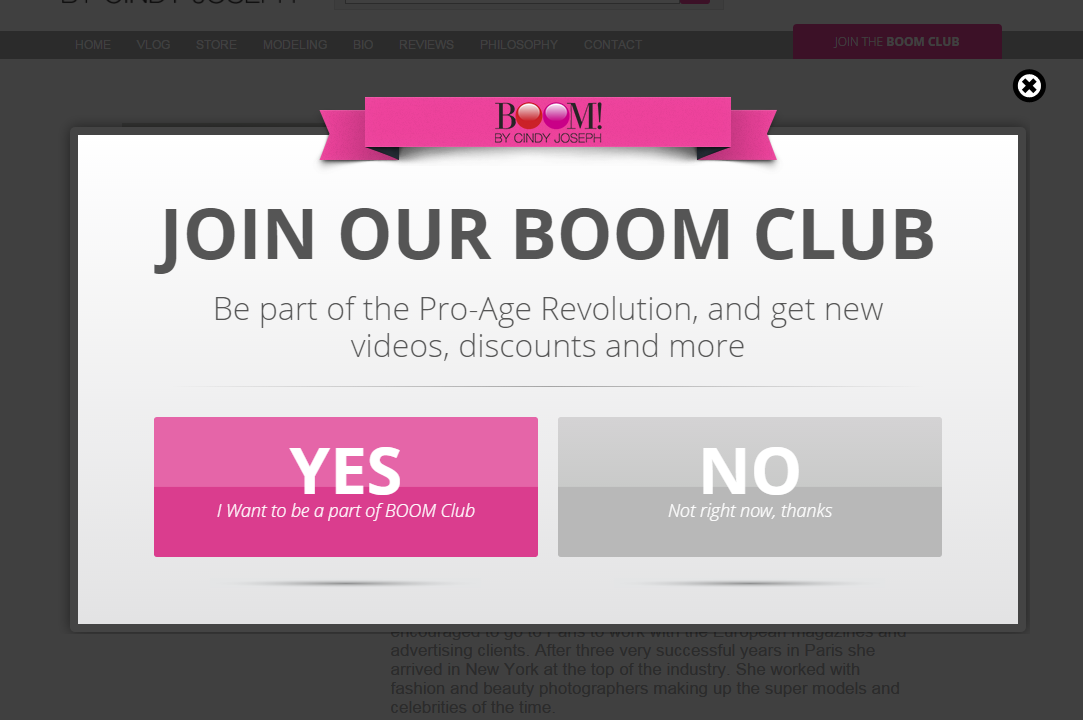 The form can be seen only on the second page: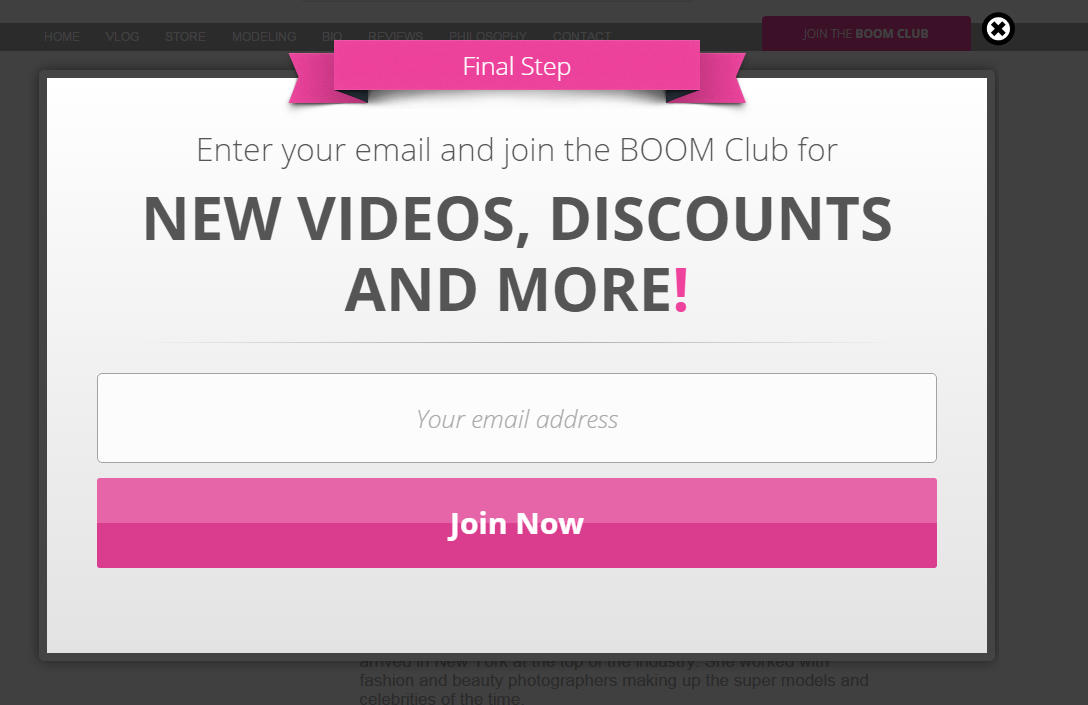 Once a visitor has provided his/her email address, the third popup directs them immediately to a product page: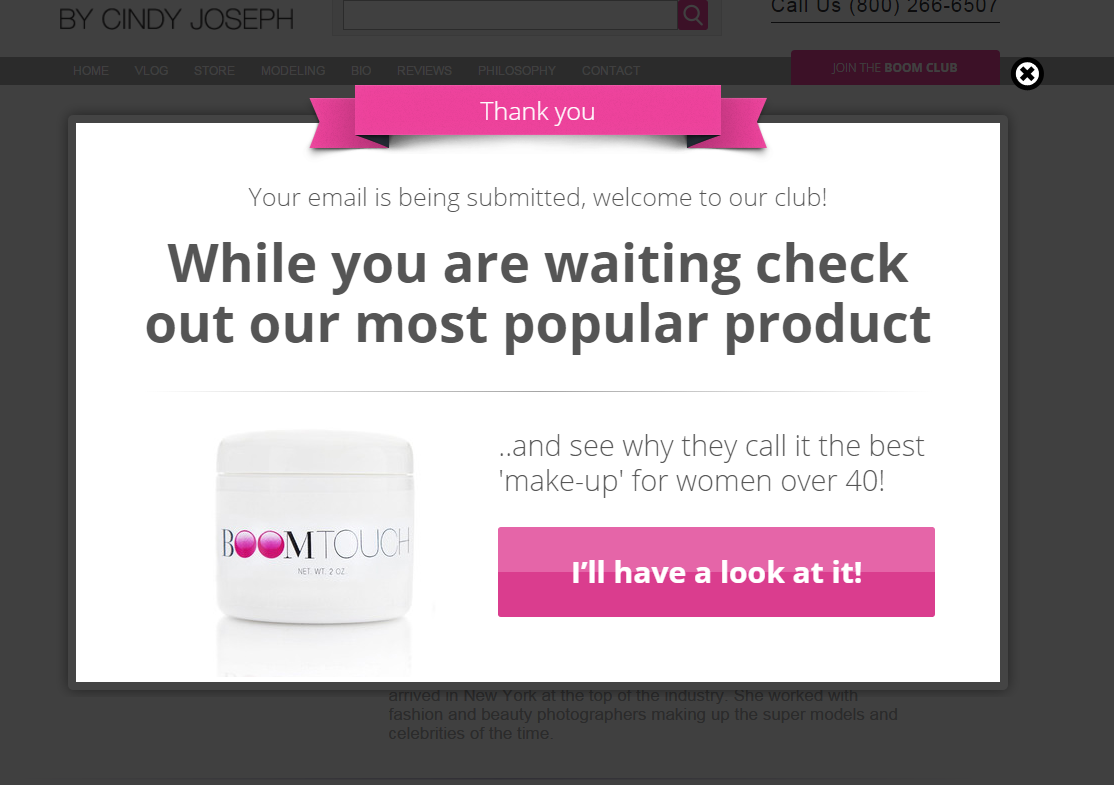 4. Target visitors specifically with Dynamic Text Replacement
Dynamic Text Replacement lets you alter the text in your onsite retargeting popups based on any variable you wish. Using this solution, you only need to design one popup overlay and a custom message will be displayed to each person automatically.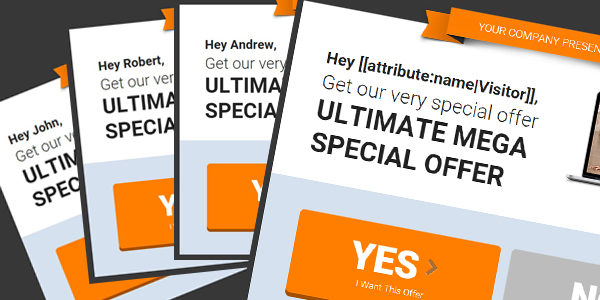 Here are some of the most powerful uses of Dynamic Text Replacement:
Targeting visitors based on their attributes: If you are able to capture your visitors' special attributes – for example, their gender, age, location, or even their name – you can dynamically alter the text to reflect these values and display fully customised onsite retargeting messages.
Promoting different offers: Online stores can dynamically change their incentives, for example, the percentage or value of a discount, depending on the product or category page where the visitor is browsing.
5. Use nanobars to be less intrusive
If you feel overlays or popups are too intrusive, nanobars are a great way to leverage onsite retargeting. A nanobar, also known as a 'sticky notification bar', is a thin message bar that appears at the top or even the bottom of your website and 'sticks' there as the visitor browses the pages on your site. In today's competitive marketplace, a nanobar can give a huge boost to your conversions and put your site a step ahead.
Let's take a quick look at when nanobars are especially useful:
List building: You can use nanobars for direct list building purposes. You can get more leads by promoting your newsletter subscription, or by offering giveaways that can be obtained after signing up.
Promoting special offers based on engagement: Nanobars can be also used based on engagement and function as a less flashy type of popup. In other words, you can display a nanobar instead of an overlay or popup when a visitor is about to leave your site. This is a great technique to use based on a visitor's time on your site. You can set your nanobar to appear only to visitors who have been browsing your site for at least X seconds or have scrolled down a page X percent.
Reminding opted-in visitors of an offer using a pop-up: Nanobars show greater results when they're used as part of a multi-page onsite retargeting campaign. In this case, the nanobar can be used as a 'reminder' bar for lead nurturing purposes. Here's how: after a visitor converts by signing up for a discount or free offer, you can remind them about the offer in a nanobar that says 'Hey, don't forget about your 10% off'.
The example below shows the nanobar used by Office Depot on their site. It appears based on engagement and promotes the hottest deal available on the site.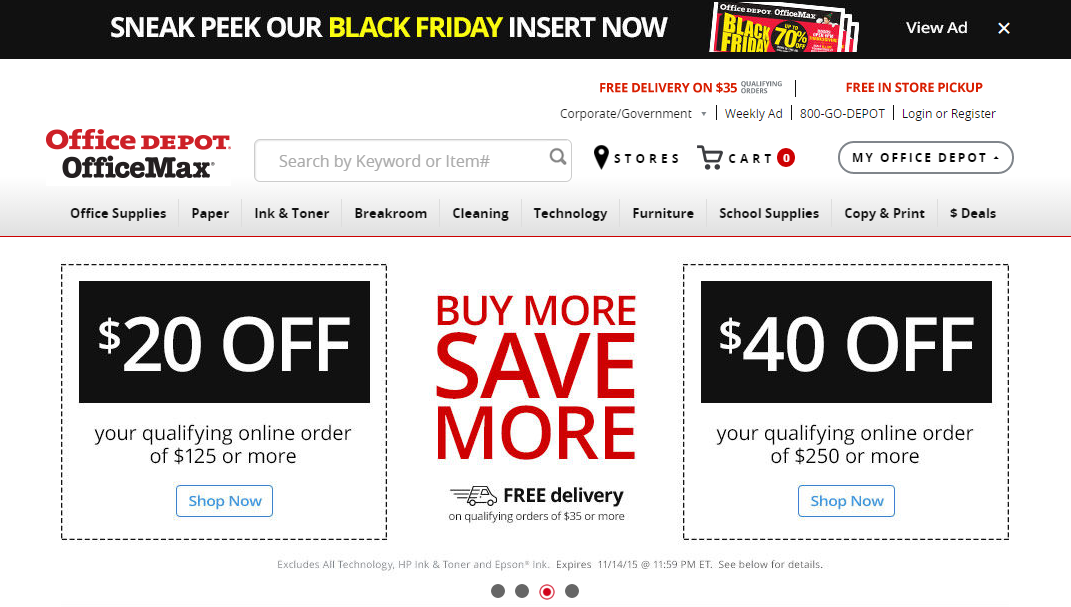 Conclusion
The 2% conversion rate of the average website is a really disappointing statistic. That's why remarketing has become so popular. Typical PPC remarketing tools like Facebook, Google AdWords and email follow-ups can generate 2-4% extra conversions for your site.
Onsite retargeting, when used correctly, is far more powerful than these traditional methods, and can convert up to 15% of your visitors into valuable leads or even customers.
If you're serious about improving your conversions, onsite retargeting is a great option to look into. In this article, we've looked at five advanced ways to help you get the most out of your onsite retargeting campaigns:
The importance of microconversions
Personalisation
Two-step opt-ins
Customisation including Dynamic Text Replacement
Nanobars as reminders to boost your conversions.
With the right software, setting up your onsite retargeting campaign can be done within a couple of hours. And, it's time well spent! Onsite retargeting gives you a second chance to present a message to your visitors, improving your conversion optimisation efforts and recovering visitors before they leave your site.