More new developments from Google towers which are sure to be of huge interest to SEOs and online marketers. Firstly, the switch to the mobile first index has been postponed, secondly, emails in Gmail will no longer be combed and thirdly, mini-websites will be available through MyBusiness.
Mobile First postponed
According to the googlewatchblog, the ranking switch to Google's new mobile signals index has been postponed. Experts had previously expected the change to take place in the second half of 2017 but are now predicting a date much later in 2018. The main reason being cited is that most websites now prefer to offer a mobile version of their page on a subpage or use responsive design.
Even when the mobile index is live, Google say it will still be a few years until websites which aren't optimized for mobile begin to be penalized – developers say about five years. In that time, it should be easily possible to make sure a website is responsive.
Gmail will no longer be scanned for advertising
Google's free email service, Google Mail – or Gmail for short – is extremely popular due its great features and ease of use. Since its inception in 2004, mails are read by an algorithm which uses email content to determine what advertising is most relevant to the user. When this was then put into practise, advertisers could even advertise in Gmail users' inboxes.
But anyone who thinks that this system will now be scrapped entirely is likely to be disappointed – after all, Google aren't going to abandon such an important income stream. The aim of the change is to increase trust among advertising customers who have had their doubts. Rather than the usual methods, other signals will now be used, such as search trends from web searches.
Mini-websites in MyBusiness
Google MyBusiness is a sort of Google yellow pages in which companies can present themselves locally and increase their relevance for local search queries. The main advantage is that a website's main information is displayed next to search results, giving users key details at a glance.
Here is XOVI's MyBusiness entry: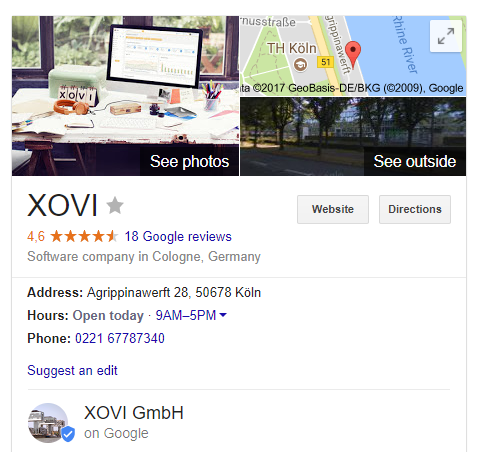 As you can see, users have an option to link straight to the route planner to view directions to the address (particularly practical on smartphones) or to navigate to the website. And the best thing: Google MyBusiness is completely free of charge.
Yet even in 2017, there are still many businesses, particularly small businesses, who don't have websites or online presences. Google is stepping into this gap in the market by offering a small homepage box in which users can set up a mini-website in just a few minutes. A sort of online business card.
Let's have a look at how to create such a site. The only requirement is a Google MyBusiness account which has verified. Then, find your location. On the menu on the left-hand-side, you'll find the "website" option – click to set up a website.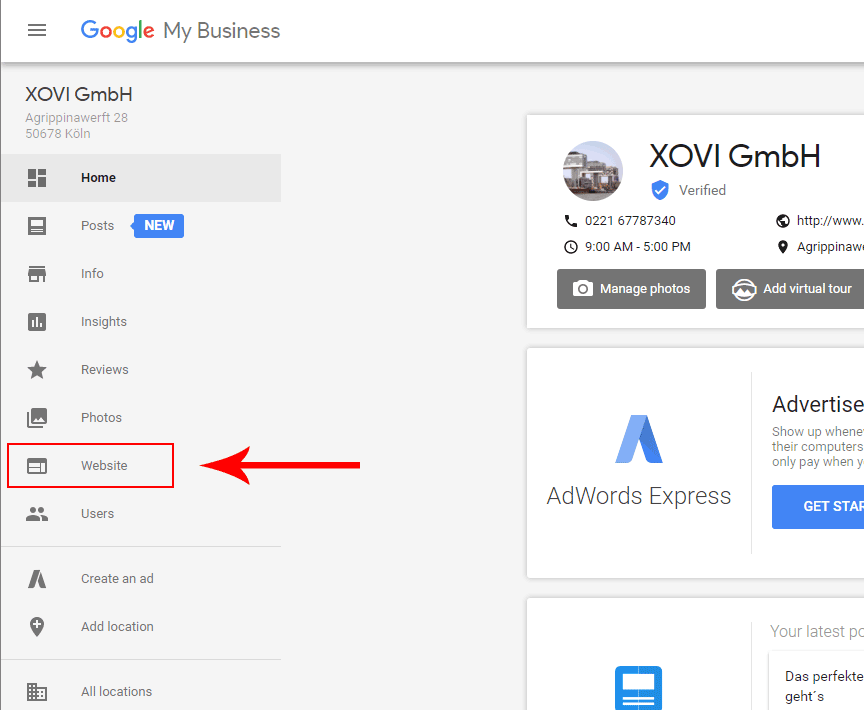 Click "start now" to set up a mini page and a template which will then be automically filled with dta from your MyBusiness account.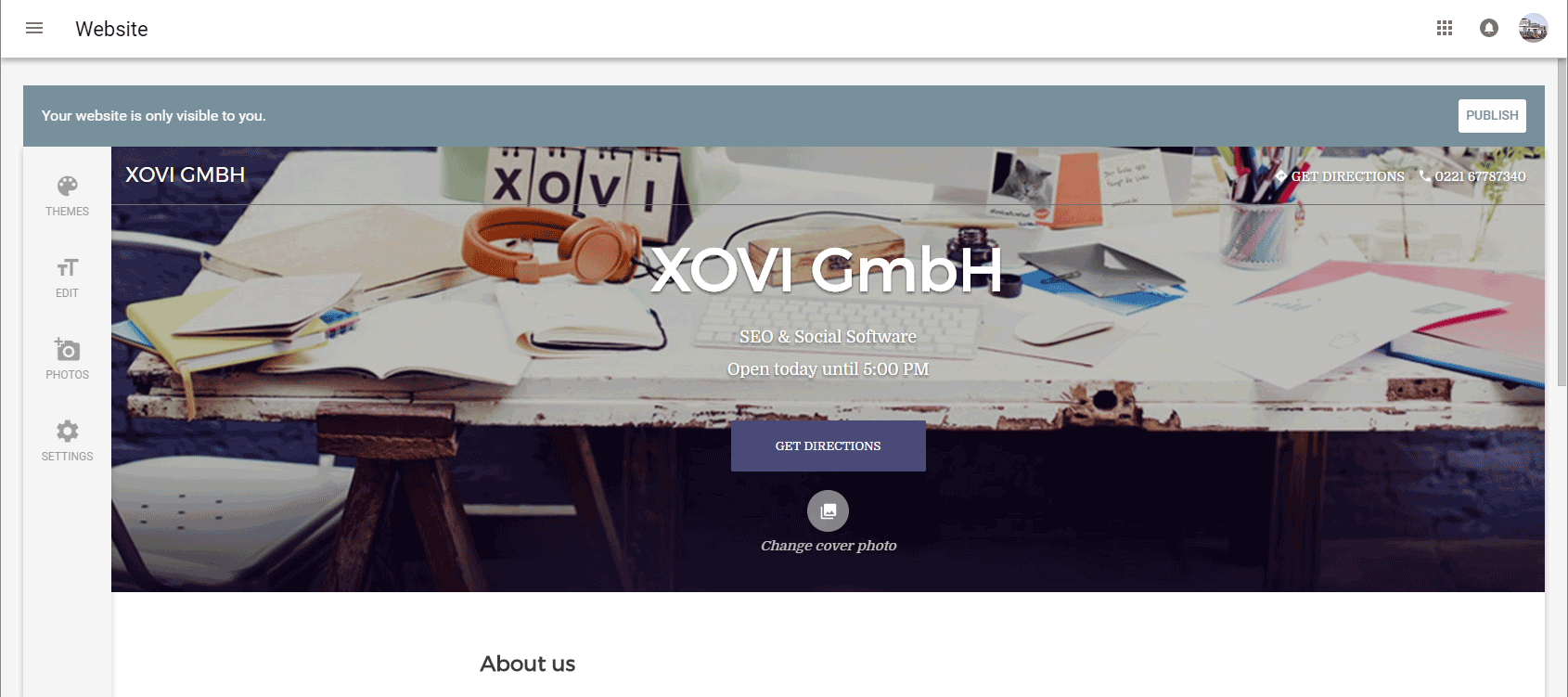 As you can see at the top left, the page is initially only visible to you. You still have the chance to change the design, edit text, add photos and configure other settings. It's only a small website so you can't change too much, but you may want to make a few adjustments. Once you're happy, click on "go live" (?) to publish.
You can also edit the page URL slightly if need be.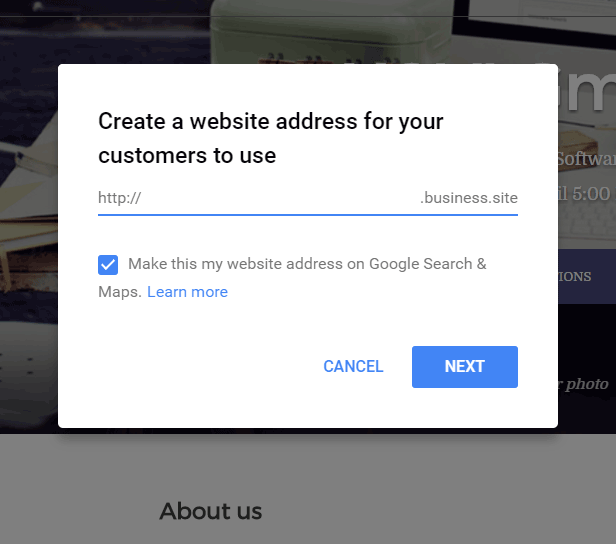 What you have then is a subdomain of business.site. You can also choose whether the page may be used in Google search or on Google Maps.
Advantages of Google mini-websites:
Completely free
Set up and go live in ten minutes
Easy to use
Can be used in Google search and Google Maps.
Mobile-friendly
Easy to manage via your MyBusiness account
Of course, there are some small drawbacks too …
Very limited functionality
On-page SEO not possible (e.g., individual titles/descriptions)
No statistical analysis through Google Analytics
No alt-texts for images
Just one page – no sub-pages
So who is it most useful for?
This solution from Google is recommended for businesses who don't have a website and who really don't have the need for a "proper" website. Even the classic homepage editors like Jimdo or Wixx offer far greater capabilities. Mini-websites are designed for the smallest business who don't have, or need, an online presence.
Already almost 150,000 micro sites indexed
A simple page check reveals how many of these mini online presences already exist – currently around 144,000 (checked in June 2017).