If you haven't used Personas before, look forward to a real success booster for your online marketing. I myself started working with Personas in our B2B business two years ago and I'm excited about the impact the model has on our communications success!
As you probably know as an online marketer, the number of digital platforms, websites, blog posts, YouTube videos and social media content is skyrocketing. To stay visible and in contact with customers, you and your offers need to be present on all those channels simultaneoulsy. But is this approach really effective and efficient? No!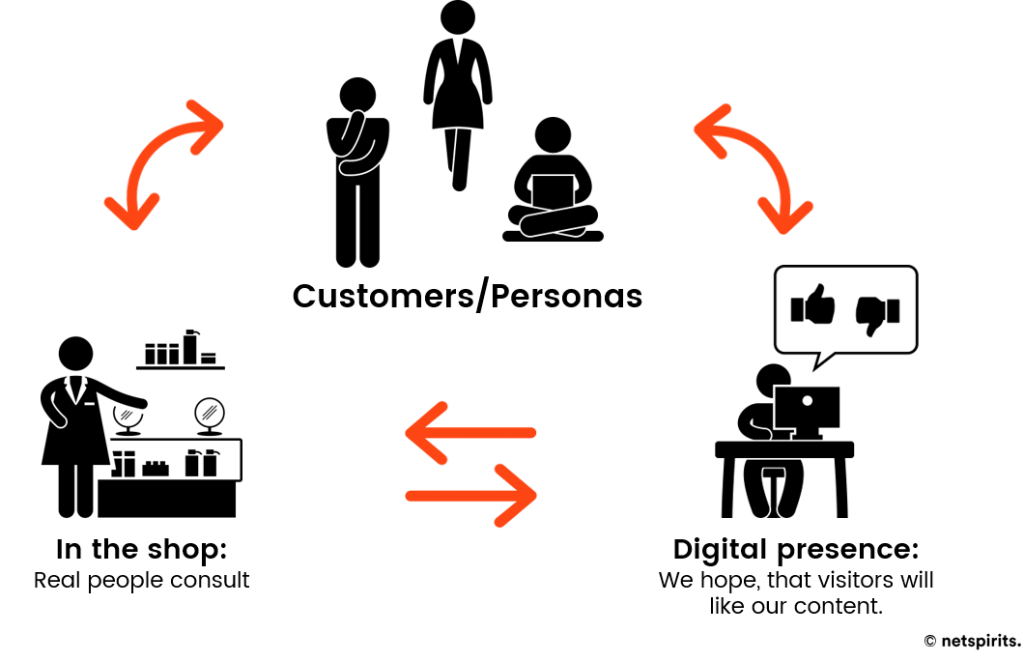 You first need to understand your target customers in order to present the type of content that will appeal to your future buyers in exactly that channel. Perfect target group understanding is therefore critical for success for all those who communicate digitally with prospective customers. Unfortunately, the classic target group definition only describes the statistical or demographic characteristics of an abstract grey mass. This is why more and more marketers are focusing on personas – i.e. ideal-typical users who are portrayed as concrete, lively people.
How can Personas improve my online marketing?
Maybe you know the statement "The best advertising is when it is not perceived as such"? Easier said than done, right? When it comes to developing marketing activities for your future customers, it is important to put yourself in the shoes of your desired customer.
Because one thing is clear: the paradigm shift in digital marketing has long been a reality! In the past, marketing was strongly product-centered (buy me!), but today it's important to communicate in a user-centered way (see what exciting things I have for you!) in order to arouse interest in brands and products.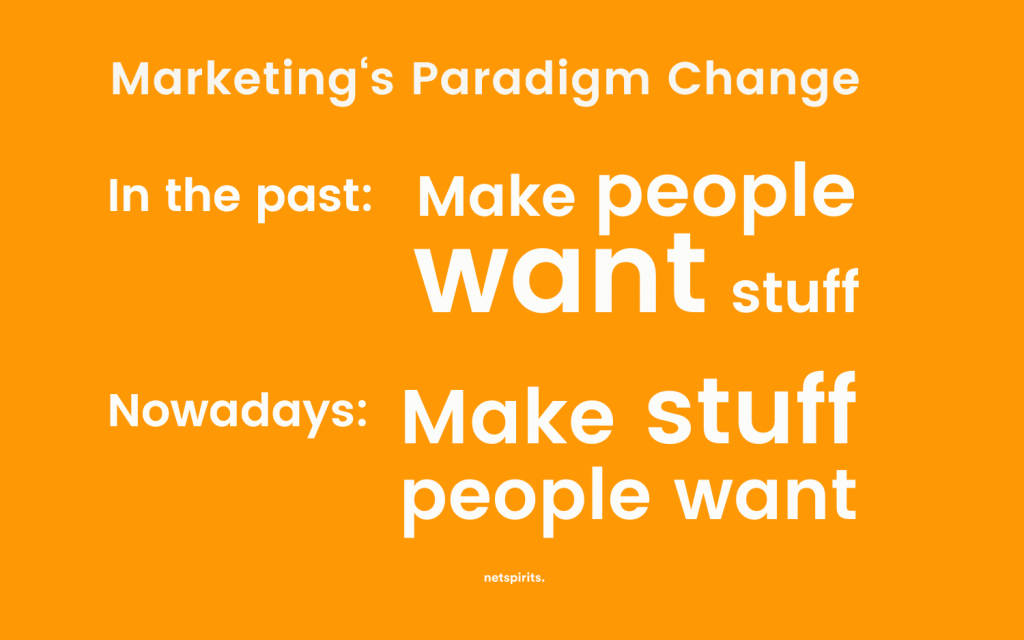 Questions your personas will answer:
What happened (action trigger) that the customer is interested in our service/products?
How do customers make their purchase decisions?
Are there people who influence them?
Where do they find information? Online or offline in shops?
What challenges do they have to overcome?
What do they want and what don't they like at all?
Why do customers buy from you and not from the competition?
What are personas and what is the difference to target groups?
Personas (lat. masks) are users of products or services designed to represent real people. They constitute part of the target group of a company, but are more finely defined than the target groups as a whole. For example, profiles are created for personas that contain interests, passions, habits, names, faces, functions, histories, and private lives. Personas have goals and behaviors, preferences and expectations. Only personas truly enable you to create content that is found, consumed and that triggers resonance with the reader.
Using personas forces marketing managers to take the perspective of their customers. They help to focus on and meet the customers' needs and demands, instead of putting their own company and products in the spotlight, when it comes to producing texts, videos, pictures and posts.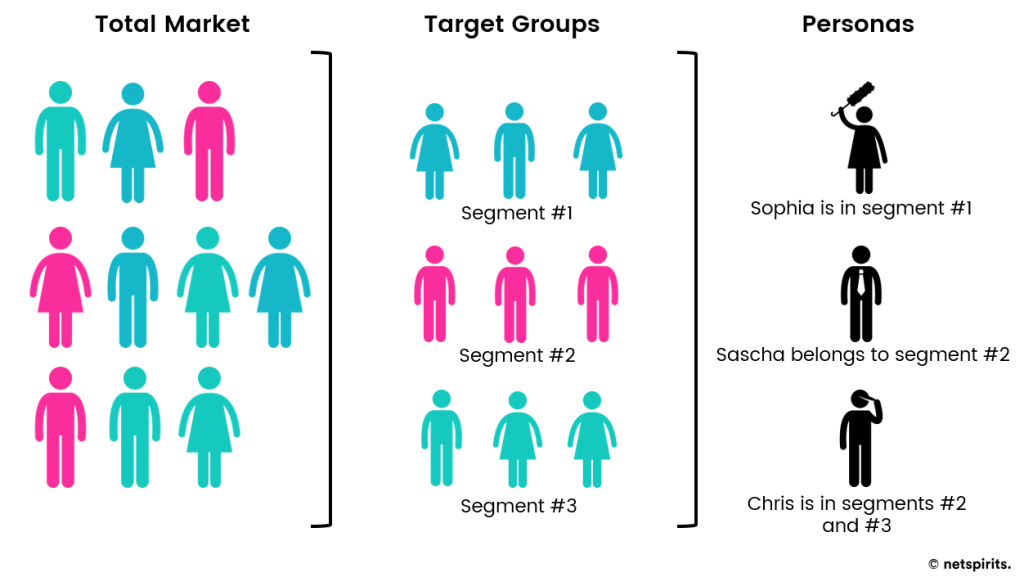 Personas: an example
Chris and Mike belong to the target group of an online fashion shop. Both are male, in their early 40s, well-earning project managers from the same city. Previously, they always ended up in the same target group. But a second look reveals: Chris is an online marketing consultant and travels a lot by public transportation, train, and plane. He is extroverted, decisive and status-oriented. Mike, on the other hand, is a data analyst in the marketing team, critical, in love with detail and likes to play it safe.
Even this tidbit of additional, concrete information tells the marketer that he needs two very different approaches: Chris looks for material, colour, place of manufacture and prestige of the brand, when he buys clothing. Mike needs help choosing the right clothes and pays a lot of attention to the price-performance ratio. The marketing team know: Chris can probably be made aware of fashion via Instagram or Facebook that supports his status. If he sees an attractive ad at the right moment in his social feeds, he starts to browse the new online shop. If he likes what he sees, he buys.
Mike, on the other hand, is critical and obsessed with detail. He reads reviews before making purchases, does research in the trade press and forums. He is won over by detailed product data and good PR work – but Mike is much more likely to go to real shops on weekends to buy new clothes. The probability that he will buy clothing online is virtually zero. This is just a small practical example to help explain the benefits of the Persona method for marketing.
Characteristics of a Persona
For each persona, provide precise information on:
Person and demography
Name & Photo
Hobbies, interests, media used
Expectations, goals and emotions
challenges
Ideal solution
Frequent objections
There is no fixed number of personas for any given business. Rather, it depends on the number of their products and services. For example: An energy company with various products (e.g. gas, water, electricity, electric mobility, public transport) is likely to work with 10-15 personas. So the home builder who needs advice on energy efficiency can be adressed in a completely different manner than the commuter who wants to quickly and easily purchase a bus ticket on their mobile phone. So it's not about the absolute number of personas, but about you identifying your company's most important customer types.
Personas are fictional, but no fantasy creatures. Create them based on well-founded data.
Possible sources for reliable data are:
internal data (e.g. CRM)
customer surveys (e.g. online, via social media, by telephone)
customer reviews (on Google, Facebook, shopping platforms)
external data sources (studies, associations, federal offices)
Use your accumulated data to help build the most realistic personas possible.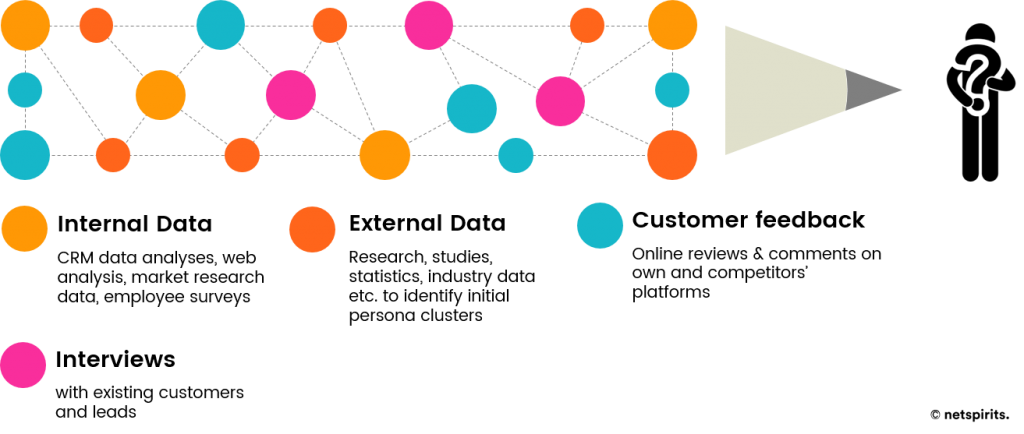 Create your own personas: Workshop
Once you collected initial information about customer clusters, age and other frequent characteristics of your desired customers based on data analysis, you have taken an important step. With this prior knowledge, you are now preparing the Persona Workshop. In addition to the pure data, the Persona Model is above all important for the real experience in the exchange with prospective customers and customers.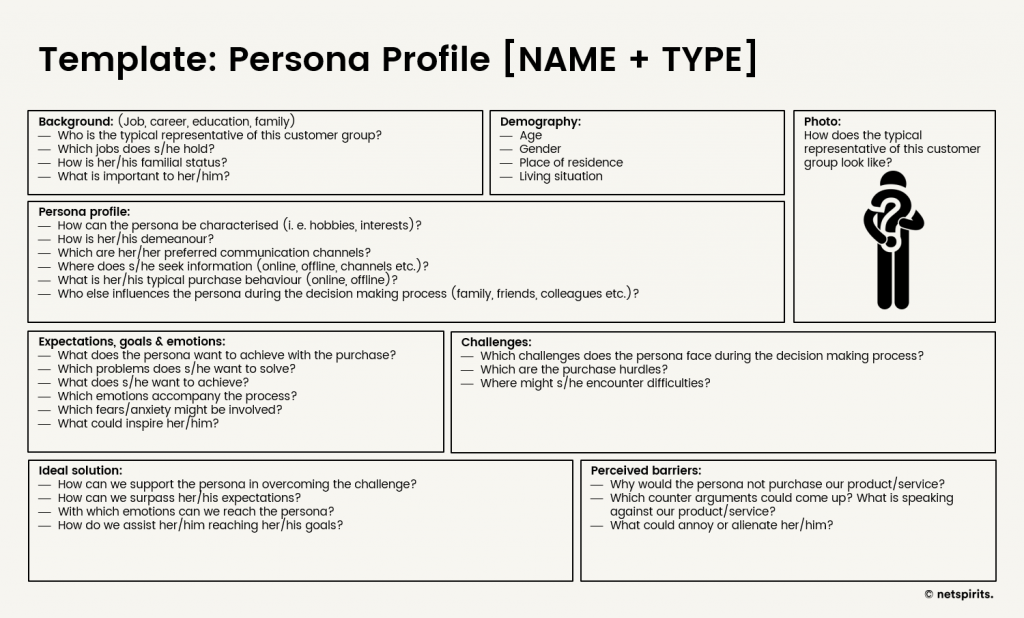 For the Persona Workshop, first prepare the results of your data analysis. In addition, compile a list of employees who have to do with interested parties and customers (e.g. colleagues from sales and customer support, consultants, social media managers, receptionists, etc.) for your workshop.
Procedure Persona Workshop:
Briefly introduce the Persona Method.
Distribute the persona templates.
Team up your participants with a partner (it is best to mix participants so that mixed groups are created!). Distribute a copy of the persona template.
Allow 45 Minutes to create the first persona (or more).
Each group presents the identified personas (15 minutes per group). Pin the created persona sheets onto a whiteboard. Group similar personas, they are put together in clusters on the whiteboard.
Take a break.
Reorganize your teams. Distribute persona clusters among the groups. Allow 45 minutes to have them 'melt' their assigned cluster into one final persona.
Presentation: Each team presents their final persona and explain the process of its creation.
Congratulations. The heavy lifting is done. All you have to do now is adding final touches (sorting pictures, compressing data) to your personas. But how do you make sure that your creations represent real customers? The answer is as simple as it is obvious: Ask your customers if they can identify with one of the personas. Have team members who are in regular contact with customers to do interviews in order to make sure that your personas are really close to reality.
The reality check came through? Great! Now you are good to go ahead to finetune your marketing strategy. Run first tests, evaluate your content and carry out any necessary adjustments. For example: Do you already have the necessary content on your website for all relevant search queries of your personas and does it rank in search engines like google?
I hope that this article will give you a positive impulse for the further optimization of your online marketing. Should you have any questions on the subject: I am happy to help!