Nowadays, the smartphone is available everywhere. We are online everywhere and the next web search is just a tap away, whether on the train, at the desk or in the bathroom. Mobile traffic has long since been outranking regular desktop traffic for most search queries. Google has anticipated this trend and has already raised the "Mobile-First" flag years ago.
Quick reminder: Mobile-First means that all Google web content is designed and developed exclusively for viewing on the smartphone. The term stands synonymously for the focus of design and technology to display content on mobile devices.
Since then, the desktop view has played a minor role for Google and is only adjusted accordingly.
The Mobile-First index is coming and is here to stay
In November 2016, Google then announced the Mobile First Index.
"Today, most people are searching on Google using a mobile device. However, our ranking systems still typically look at the desktop version of a page's content to evaluate its relevance to the user. This can cause issues when the mobile page has less content than the desktop page because our algorithms are not evaluating the actual page that is seen by a mobile searcher.
To make our results more useful, we've begun experiments to make our index mobile-first. Although our search index will continue to be a single index of websites and apps, our algorithms will eventually primarily use the mobile version of a site's content to rank pages from that site, to understand structured data, and to show snippets from those pages in our results."
(Source https://webmasters.googleblog.com/2016/11/mobile-first-indexing.html)
However, the increasing use and reach of Internet-enabled smartphones and the almost universal wireless internet access in most conurbations has not only changed our Internet consumption and the design approach for creating web content but even the way in which and especially where search queries are made is also in a state of flux.
In addition to voice-driven search using assistance systems such as Google Home or Amazon Echo, the refinement and focus on local searches is a rapidly changing field for webmasters.
One in five search query has a local context
On 27 October 2017, Google announced in its own blog that one in five search queries has local context today.
Google search region settings on your phone
"When you're searching on Google, we aim to provide the most useful results for your query. Today, around one in five searches on Google is related to location, so providing locally relevant search results is an essential part of serving you the most accurate information.
In order to provide this optimal experience, your location determines the country service you receive results for across Google Search and Maps. […] Today, we've updated the way we label country services on the mobile web, the Google app for iOS, and desktop Search and Maps. Now the choice of country service will no longer be indicated by domain."
If you travel to Brazil and use Google search with your smartphone, local Brazilian search results are automatically displayed. In the past, ccTLD google. com. br could be used for this. Regardless of the automated adjustment of the search results region, the region can also be changed manually via the settings.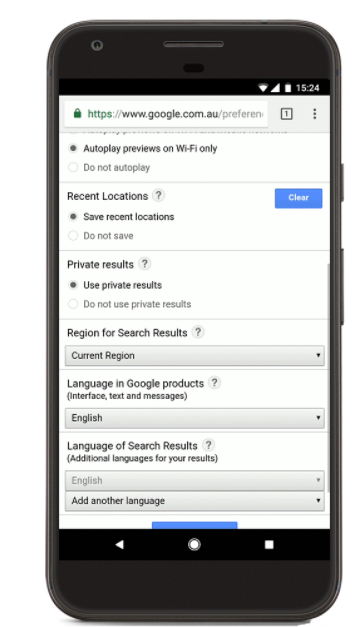 https://www.blog.google/products/search/making-search-results-more-local-and-relevant/
Regional providers benefit the most
The strong change in the Google search algorithm towards locally personalized search results is of particular benefit to regional companies.
Reason enough for small and medium-sized companies to occupy themselves with the optimal positioning within the local search.
In the further course of this article, I'll explain to you how you can maximize space on the search results page for local keywords from your industry in the areas of: 1. Google AdWords Top 4 ads and 2. Google My Business. This has the advantage for you that a potential new customer will not be able to get past you in his search.
Entering the consumer's mind
The goal is to maximize the space on the first search engine result page (1st SERP) for search queries with a local reference, which have the intention of buying my product or service. If we achieve this, we are almost inevitably accessed the consumer's mind. Then we managed to be included in the consumer's Choice-Consideration-Set thus taking a place on the mental list of possible suppliers for future purchases.
If we take a closer look at the search results page for a search query, such as "Vintage Brautmode Köln", we can identify four different areas in which our site and content can be displayed. As an example of such a dominance of the local search results, a Cologne-based up-and-coming bridal fashion store for trendy vintage bridal fashion is serving as an example. Although relatively small in comparison to large bridal fashion stores, this provider has managed to establish itself among the top 3 in all four areas for its special theme.
Google AdWords Top 4 Ads
Google My Business Top 3 Shops
Organic search result hits Top 10
Google Maps Top 2 ads + organic visibility
Tip: This way your ads will also appear on Google Maps: Create a search network branding campaign and enable the "Include search network partners" option. Then activate the location extensions in the ad extensions and your ads will be displayed on Google Maps for booked keywords.
So if we want successfully access the consumer's choice-consideration set, we need a strategy that ensures that in the long term our business and our website will be given maximum attention in these four areas. Our business should be displayed at least in each one of them.
Just imagine how such a dominance in search results might affect a potential new customer. He is sitting at the computer looking for their products and services. No matter what he enters and no matter where he searches, your business is present and will be displayed dominantly.
That is exactly what we want to achieve. In practice, of course, it is not always possible to dominate each of these four areas. If you are a very small provider and you are located in the neighborhood of the German-wide market leader, it becomes understandably difficult to take the pole position. But don't be mistaken, I've seen it many times before and have already proven that it is possible to use a lot of diligence and smart strategies to take a lot of visibility away from large providers in the search and to even outdo them.
After all, Google doesn't know the real size of your company compared to the market leader. The algorithm only tries to provide the most relevant results for the user and uses different metrics for these relevance identifiers. We can influence many of these metrics in our favor and thus gradually build up relevance.
How to Dominate Local Search Results: 1. Google AdWords Top Ads
I never click on these ads myself
Time and time again I hear the objection of managing directors and owners that you yourself would never click on "these ads". They therefore assume that this area is negligible. Let me assure you that the AdWords section of the top ads at the top of the SERPs should not be overlooked and is one of the most important and highest-revenue sections of the search results page. Many older users still do not know that these are paid ads. Rather, you think it's the regular search result hits.
In addition, Google has refined its ad delivery system over the years to such an extent that the relevance of an ad in relation to the formulated search query must be enormously high in order to be able to place cost-effective ads for this search query at all. In other words: Here you will often find a good and very relevant offers for the user's search query. This fact has long since been noticed by the general public, especially by younger users, and this is precisely why they often click on the advertisements.
Over the years, Google has developed, refined and perfected its advertising system in order to display only highly relevant ads for a specific search query. This is particularly good for the user, as it allows him/her to see more relevant ads. However, this is also the reason why so many shops that have tried to place ads on their own failed. The AdWords system has simply become too complex and too detailed to be understood and played on in one day. So if you haven't gotten from A to B with your AdWords campaigns yet, it's often not so much the car's fault but the driver's.
If you still place your AdWords ads yourself, here are my top 10 checklist for dominating the local search results:
Make sure you're using regular Google AdWords and not AdWords Express. In my opinion, the new AdWords Express system is unsuitable for the cost-efficient and result-oriented placement of good advertisements. There are simply too many important options missing.
Be sure to enable the location extension that you link to your verified Google My Business location. If you manage multiple locations with your account, make sure that only the appropriate locations are selected. Especially with the new AdWords BETA this can easily be overlooked.
Use all available keyword match-types and book each search word at the beginning as "exact match", "phrase match" and "broad match" with +modifiers. In this way, you start with a good, somewhat broader keyword set, which minimizes budget waste by entering the match type "broad match".
If possible, create only 2-3 ads per ad group and book only a few semantically very close keywords into the same ad group.
If you link to a landing page with a direct connection to the search word, you will achieve a higher quality factor and lower CPC costs.
Use the geographic targeting options in any case. Either define a meaningful radius around your associated Google My Business location or select individual city districts or entire cities using the targeting search function.
Ensure that your ads communicate the unique value of your business and are not too generic.
Add any ad enhancements that are available to you. Make sure that you provide at least six Calloutextensions and, if possible, at least six sitelinks.
Activate display calltracking. This replaces your telephone number in the advertisements with an 0800 forwarding number and you can see exactly how many callers have called directly because of your advertisements. If you want even more accurate conversion tracking, I recommend that you activate the AdWords Calltracking website. This means that the phone number on your website will only be exchanged for the forwarding number if the visitor came to your website via an AdWords ad. A simple workaround for setting up a simple telephone tracking solution can be achieved by connecting a simple additional ISDN number.
If your budget is limited you should bid on the 3-4 positions on the search result page, so you will usually still be shown at the top, but pay the lowest price of the four top ads. To do this, check the ranking positions at least every seven days and then manually adjust your CPC bids continuously. This is how you will be ranked for the lowest price among the top four ads.
Of course, there is more to bear in mind if you want to place Google AdWords ads in a cost-effective and successful way to dominate local search results. However, if you take these ten points into account, you're already further along than most small and medium-sized businesses that haven't placed their AdWords ads in professional hands.
How to Dominate Local Search Results: 2. Google My Business Top 3
If you want to be listed in the number 1 business directory: Google My Business among the top 3 results for important keywords of your customers, then there is no shortcut or quick fix in Germany so far. In the USA, a payment variant for the so-called local-pack is already being tested on the first search results page, but it remains to be seen whether it will be rolled out nationwide and if so, when this will happen. Until then, there is only one way: your business must be as relevant to Google as possible for the respective search term. In the following I would like to explain the five most important markers with which you can give your entry more relevance and a higher ranking. Of course, the current GPS position of the searcher is also one of the most important factors for determining the relevance of an entry.
1.) Verified Google My Business Entry
Although this should be obvious by now, there are still countless companies that have not taken over and verified their location entries. In the worst-case scenario, this can lead to competitors uploading false or even business damaging images for their listing, which will then be displayed in the worst-case scenario when searching for your company. Only recently I talked to the managing director of a large waste disposal company, whose My Business entry showed the image of an Asian fast food restaurant.
This deters potential new customers and confuses them unnecessarily. So please make sure that you have taken over your Google My Business entry and that your e-mail address has been set as the owner's. To do so, simply click on the "Is this your company" link and have the Google mail sent to you with the four-digit verification code.
2.) Completely filled out entry with HD photos
Make sure you have all relevant company information in your Google My Business listing. This entails opening hours, category, logo, phone number, website URL, correct company name and photos. Especially the topic of quality photos is too often neglected. When it comes to photos, it's just not enough anymore to use snapshots taken by a smartphone. Comprehensive high-resolution professional photos are required to represent the company, the location and the employees in their best light.
When naming your business at Google My Business, be sure to use the exact name of your company. If you have a commercial register entry, then the name entered in the commercial register must be used in the exact spelling. If you use a different name, this can lead to worse rankings or even a complete deindexing. Avoid using the tactics that were often used in the past to insert keywords in addition to the company name.
3.) Citations and other entries as references
An important factor that Google uses to determine the relevance of your classified directory entry is the number of entries from your exact company, preferably including address data, in other places on the Internet. The more often your company is mentioned on other relevant websites, the better. Of course, the relevance of the websites that mention your company as well as the context of the comment plays an important role here.
In addition, Google also compares its yellow pages with the entries in other yellow pages. So you should definitely add your company to the 15 largest rating and industry portals that are important in your country.
4.) Many positive reviews
Of course, the reviews of your Google My Business entry also play a role. Here you should ensure that new honest assessments are regularly added by satisfied customers. Experience has shown that the following techniques are the best way to continuously receive new reviews.
Ask satisfied customers to write you a Google My Business review. Do this with your so-called power base of satisfied existing customers as well as with new customers.
Create a quick review link to make it as easy as possible for potential reviewers to submit a review.(To create a reviw link you can use Google's instructions: https://support.google.com/business/answer/7035772?hl=en) Afterwards you can shorten the link with a URL simplifier such as: https://goo.gl/. Only communicate the abbreviated link so that you can track the links more easily.
Create a rating postcard that explains to the customer quickly and easily how he or she can submit a rating. Display this evaluation card in your office or shop. Address your satisfied customers actively to the submission of a rating and press the rating card in your hand. Say, for example,"We would be very happy to receive an honest rating from you on Google My Business".
On our standard template for rating generation you can see the heading "Rate us on Google My Business" on the one hand. On the other hand, the shop owner will be shown a short guide including a QR code and a short text to motivate the customer to give an honest evaluation.
Add the following sentence to the email signature of all employees with external communication "If you were satisfied with our performance, we would appreciate an honest evaluation. To submit a quick review click here ".
5.) Excellent SEO Onpage optimization
What most people tend to overlook is the correlation between a good ranking in the Google My Business directory and a well Onpage-optimized, content-rich website. Of course, this also makes sense, as my business increases in relevance due to a good Onpage optimization and additionally my ranking in the yellow pages will also benefit from this.
6.) Google posts
Use the new function within the backend of My Business "Google posts" to give your entry a relevance and topicality boost.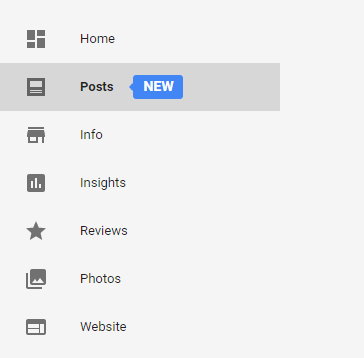 Here you can place current offers, events or other important time-limited information. The new Google contributions then appear in your company entry within Google search.
Conclusion:
By using suitable techniques and measures, a lot can be achieved even with a small budget. I hope you have been able to take some action points out of this article for your own online marketing. If you have any questions or suggestions, please feel free to contact me by e-mail, phone or comment. I wish you every success in dominating your local search results.