Are your competitors ahead of you in terms of SEO? Do you feel as if you're no longer reaching your target audience? Or do you just fancy rejigging your website? If the answer to any of these questions is yes, perhaps it's time to think about a website relaunch.
A relaunch is all about developing a new concept for your online presence – a sort of technical makeover to spruce up your website both outside and in! A website relaunch gives you the chance to:
… polish up your site's visual appearance
… optimize for mobile with responsive design
… improve content and tailor it to your target audience
… adjust website structure
… improve performance
Users generally respond well to website restoration. They find it fresh, new and exciting to use. But if you forget anything when planning your grand relaunch, you risk losing hard-won backlinks and rankings.
So what can go wrong?
We've already touched on one of the most important aspects to bear in mind when relaunching a website – permanent redirects. You cannot afford to risk forgetting URLs – as some prominent examples demonstrate:
In January 2012, major electronics superstore Media Markt launched its new online shop, an operation which involved changing the existing website on a huge scale. On the day it went live, Google quickly registered the changes and the domain suffered a massive drop in visibility. Previously high-ranking URLs simply didn't exist anymore because Media Markt had forgotten to redirect them to new locations.
The consequences of forgetting to redirect old links is also evident in backlinks. Even a quick scan of the Lufthansa website – one of the biggest airlines in the world – reveals broken pages which greet the user with a 404-error page. This is a huge loss in backlink potential.
"A website relaunch must be thoroughly planned in order to avoid ranking losses. XOVI explains what you need to look out for."
Pre-relaunch
You've planned your new website concept and now it's time to implement it. In XOVI, you'll find a number of helpful features to assist you:
1. WDF*IDF text optimization
Since the rollout of the Hummingbird algorithm in 2013, semantics have been key when it comes to identifying relevant keywords and the WDF*IDF formula has replaced the concept of keyword density. WDF*IDF makes it possible to calculate the weight of a keyword within a document. Here at XOVI, we calculate the value of a keyword based on its surrounding semantic context in the top ten search results for which it ranks. In this way, we are able to give you an indication as to which keywords you should be using and in what quantity.
XOVI allows users to carry out an unlimited number of text analyses on as many sub-pages as you like. If you already know of competitor websites whose rankings you would ideally like to emulate, it is possible to enter this URL when setting up a text analysis and have XOVI take the competition into account. If you don't have a particular rival website in mind, not to worry. It's still a good idea to carry out analyses based on several different relevant keywords and to compare and contrast the results. Who knows, you might discover a few new keywords or phrases which you could use in your own copy. But most importantly, always remember that you are ultimately composing text for the user – not for the search engine.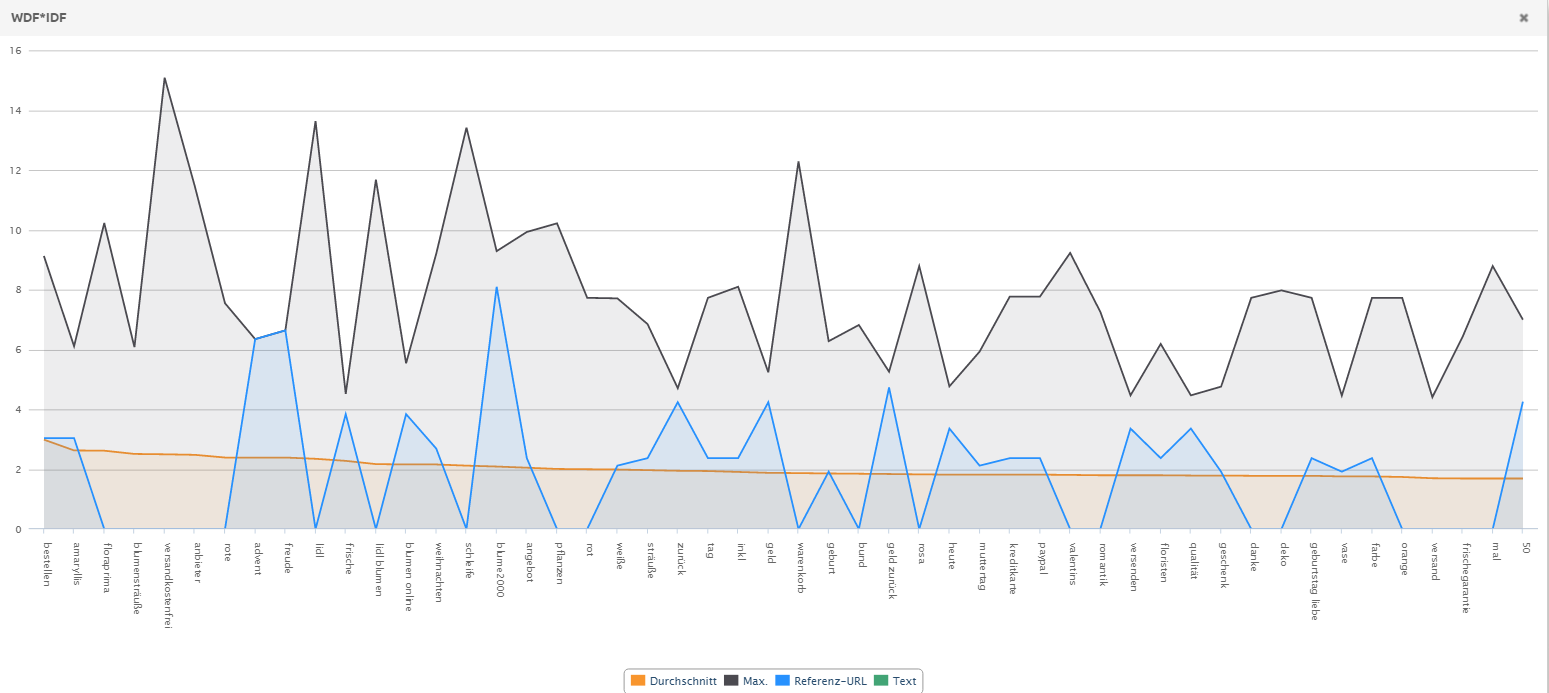 2. Title and meta-description optimization with the SERP snipper generator
Since Google uses different measurements to display its search results on PC, tablet and smartphone, it's no longer possible to name an optimal character count for titles and meta-descriptions. Rather, the number of pixels is important. XOVI's snippet generator displays a title and meta-description preview, enabling you to optimize your descriptive texts perfectly for Google snippets.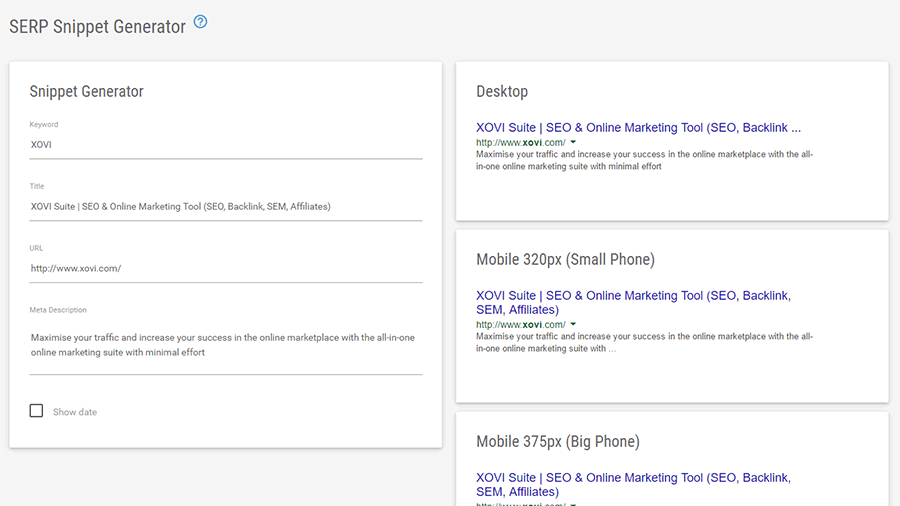 3. Run an on-page analysis – even for protected sites
In XOVI, you can carry out a comprehensive on-page analysis of your new website before it goes live – simply by sharing the .htaccess data with the XOVI crawler. To do this, access the advanced crawl options when setting up a new on-page analysis by clicking on "advanced" and enter the username and password from your .htaccess file.
Once the crawl is complete, XOVI presents a range of errors, hints and tips which you can act upon to take important optimization measures before your website goes live. Pay particular attention to the following:
Are all internal links correct?
Do you have any duplicate content?
Do all necessary pages have titles, meta-descriptions and H1 text?
Have you applied viewport-tags to enable optimal mobile display?
Do all images have alt-texts and titles?
Can you optimize website performance at all, e.g. by consolidating JavaScript or CSS files?
Finally, depending on how it is generated, you should also double-check that all pages are included in the sitemap.
Once you have corrected any mistakes and carried out any necessary optimization measures, run a second crawl of the page. You should now be able to use XOVI's degree of optimization to see how effective your changes have been.
4. Retain rankings and backlinks by using 301-redirects
Many website relaunches involve a revamp of the domain's link structure. In order to retain existing rankings and backlinks when the new version goes live, it's vital to apply 301-redirects. You should already have determined in the concept stage which URLs are to be changed or will disappear altogether. Whether you use mod_rewrite in your .htaccess file or a CMS plugin, the only thing that ultimately matters is that your users don't land on a 404-error page when clicking on an existing backlink.
XOVI tip: Run an on-page analysis of the existing website to obtain a list of all internal URLs. This will be a huge help when working through your new redirects.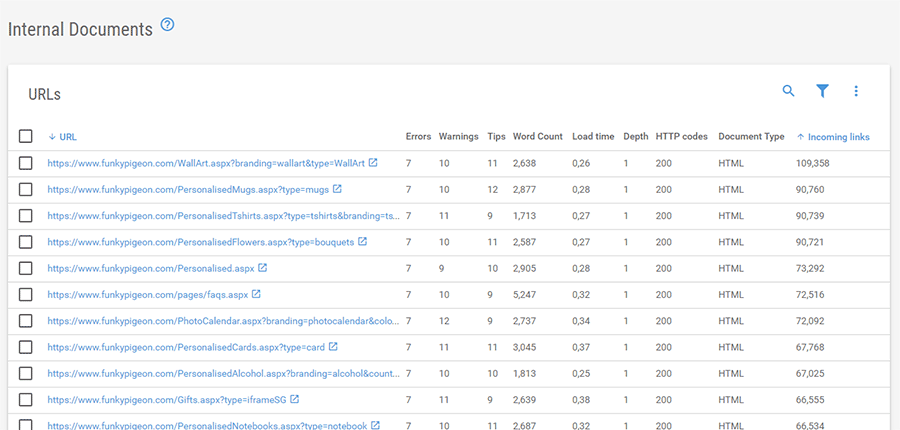 Post-relaunch
All done! Your new website is live and has replaced the old version – but now it's more important than ever to keep an eye on your backlinks and rankings and ensure they are not lost.
1. Forgot a redirect? Root out broken links!
Sometimes, even the most diligent preparation can't prevent 301-redirects being forgotten, leading to broken links on the new website. Use Google's Search Console to identify and correct broken links – the tool delivers a huge amount of data which is a huge benefit when it comes to rooting out errors.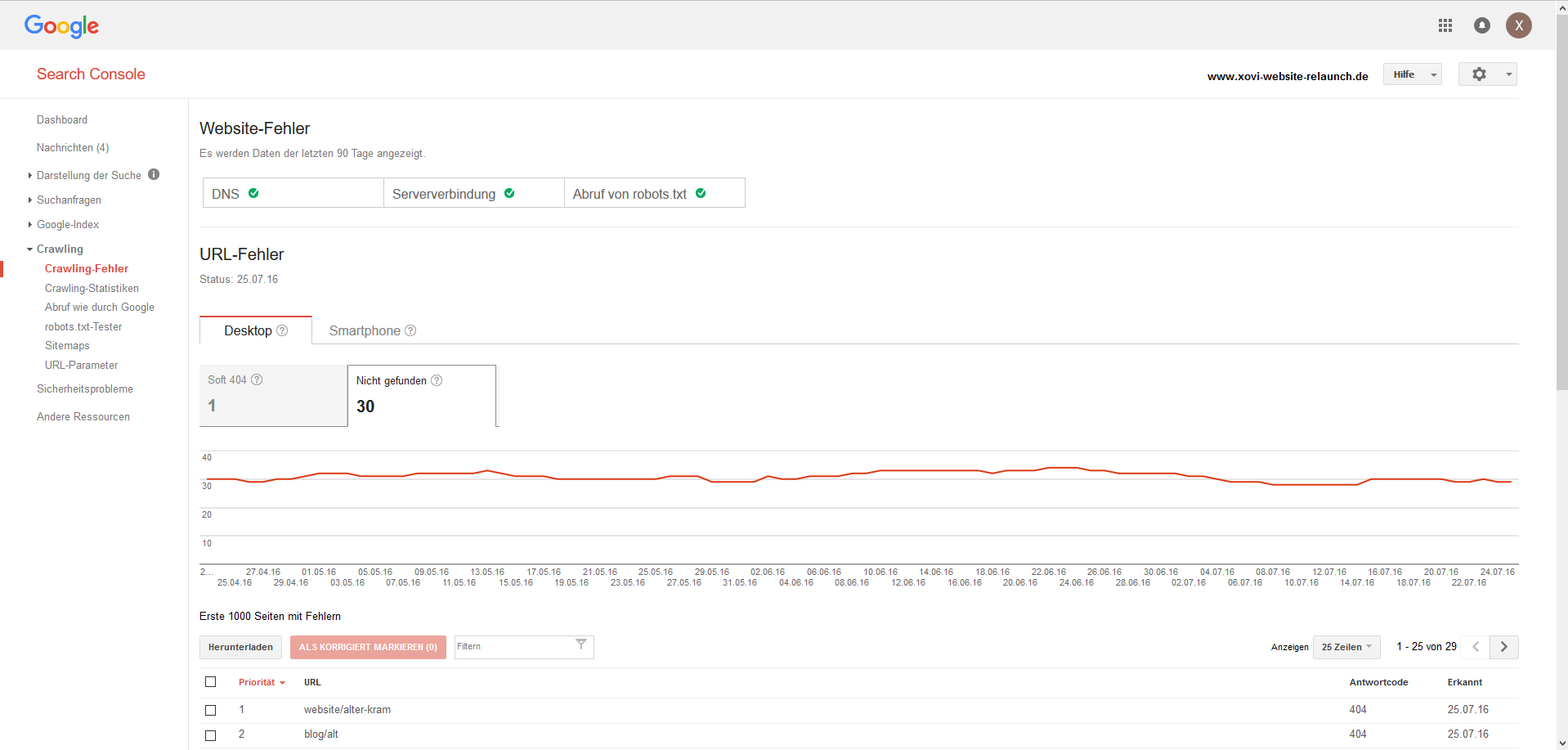 Log into the Search Console and select the relevant property. Navigate to Crawing > Cawling errors using the menu. Ensure first of all that the data is current – in other words, a date since your relaunch.
Under the "not found" tab, you will find a list of URLs which are no longer present. Click on one to access an individual details page. Under "Error details" you can see when the URL in question was last and first crawled. Under "linked from" you can see which websites link to this URL.
Check all URLs individually. As you can see on Google's crawl errors report help page, Google suggests correcting the following errors:
Errors on important pages which are linked to other websites
Errors resulting from incorrect URLs for important websites
Errors in popular website URLs which no longer exist on your website

XOVI recommends: Here, you should apply a 301-redirect – either to the relevant new URL or, if no longer possible, at least to a suitably thematically relevant page. If necessary, the home page.

Errors in older URLs which have been deleted from your sitemap

XOVI recommends: Remove these URLs from the sitemap.
Finally, if you have old pages which have new versions and which are linked internally, make sure you adapt the source text accordingly to link directly to the new URL.
2. Final analysis
Carry out a final on-page analysis after relaunch to identify possible problems with internal links, performance and broken links/images.
Make doubly sure that all URLs are displayed in the sitemap. You can double-check this using the "Internal documents > Sitemap" section once the analysis is complete.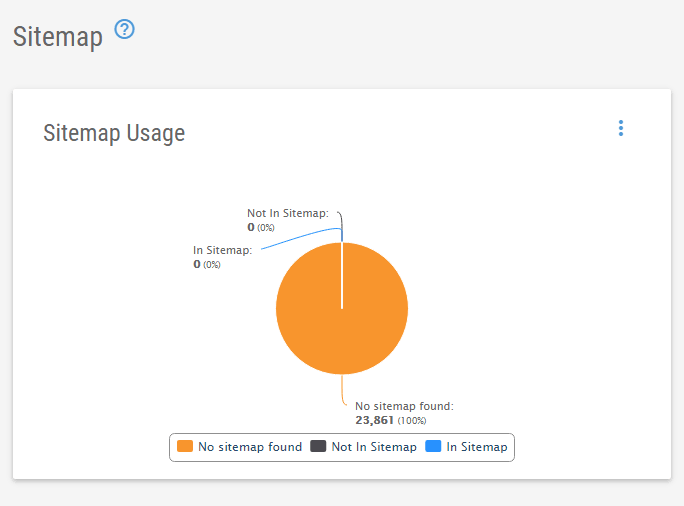 3. Monitor important rankings on a daily basis
Having carried out wholesale changes to content and link architecture, it's now more vital than ever to keep a close eye on rankings in XOVI's Keyword Monitoring tool. Observe your domain's rankings for key keywords in the first week after relaunch by setting the XOVI crawl settings to all, or at least several, days a week. This will enable to keep a close eye on post-relaunch performance, react quickly to any negative changes and avoid any substantial ranking losses.
XOVI tip: You can set keyword monitoring alerts to inform you of any negative developments. Head to "Notifications" in the XOVI Suite to configure alert types and also device (phone, email, etc.)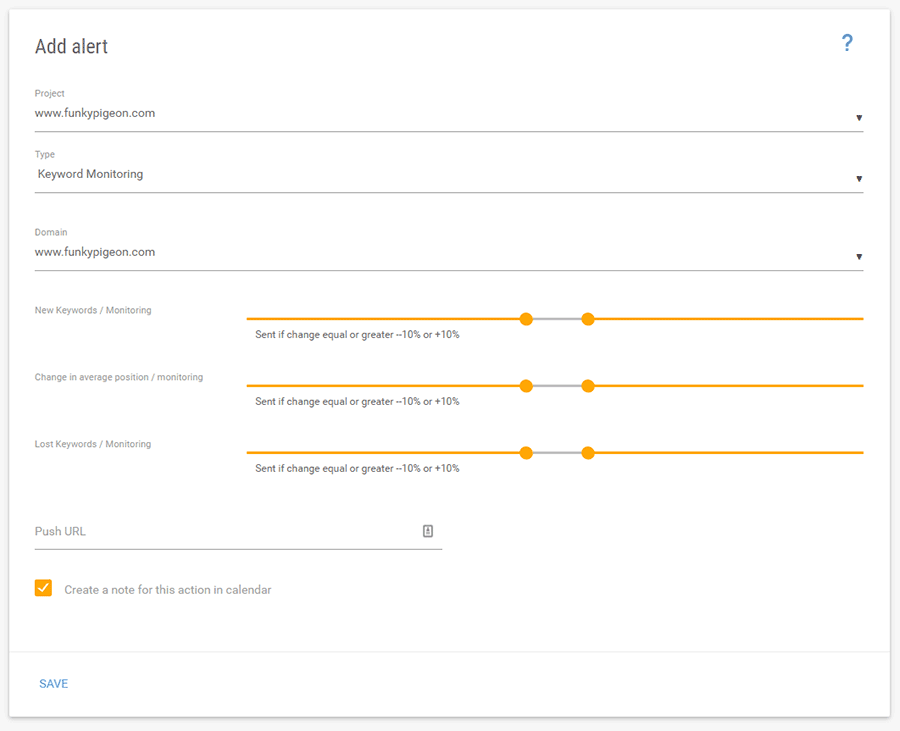 To sum up…
XOVI offers a range of functions and features to ensure that website relaunches don't have to involve ranking losses. Whether it's WDF*IDF optimized copy, a well-planned concept or catching those broken links, XOVI offers you all the support you need for a successful relaunch. And should a few mistakes escape the net – it happens to the best of us! – daily keyword monitoring ensures that you can react to any ranking losses quickly.