From the very beginning, Google rankings have been based largely on backlinks. Naturally placed backlinks act as recommendations and are therefore a good measure of the relevance of a website's content for Google. When a website contains a link to another website, it is in effect recommending that website to its visitors and pointing them in its direction. The more links there are to a domain and its subpages, the more important and more relevant that website appears to be for the topic in question. This is then reflected in its Google rankings.
"The more links the better" went the old mantra. And not only that, the actual quality of the links was irrelevant. A link was a link, as SEO's all over the world quickly realised. Simply purchase 10,000 links to your own website and bingo – better rankings! It worked for a while …
Things have changed drastically however in recent years, and Google now aims to provide users with the very best results based on their search query. The out of control mass purchase and placement of links had allowed poor quality websites to climb up the rankings, often to the displeasure of users.
With an algorithm update, Google declared war on this so-called link spamming. The Penguin Update, as it came to be known, was first implemented on 24 April 2012 and has been regularly updated and reworked since. As a result, many of links placed in the early days are now not only less helpful in terms of rankings but actually harmful, leading to demotion down the rankings either as a natural result of the new algorithm or manually via targeted punishment by Google's spam team. The spam team consists of real people who study the backlink structures of suspicious domains and manually demote websites down the ranking order. The official notification from Google can be found in the Search Console (formerly Google Webmaster Tools).
So how can you get rid of harmful links?
If you have access to the domain providing the link, then simply remove it or tag it with as NoFollow.
In most cases, you won't have access to the link and won't be able to delete it. In this scenario, try to contact the webmaster by email, asking them to remove the link from their website or at least to switch it to NoFollow.
It is often the case that administrators don't react to requests to remove links or ignore them, leaving links active and continuing to cause damage. The only remaining solution is to inform Google that the link should no longer be monitored and should effectively be discounted. For this purpose, Google offers the Disavow Tool in the Search Console, which we are going to discuss in more detail in this blog entry.
In order to use the Disavow Tool, you must first have registered your website in the Search Console. Most webmasters usually already have.
Log into the Search Console and access the following link:
https://www.google.com/webmasters/tools/disavow-links-main
The tool is not directly accessible from the Search Console, but you can access it via the above link once you are logged into Google. Simply open the link in a new browser tab.
You now see a selection of your websites which are registered to your Google account. Select the website for which you would like to disavow links.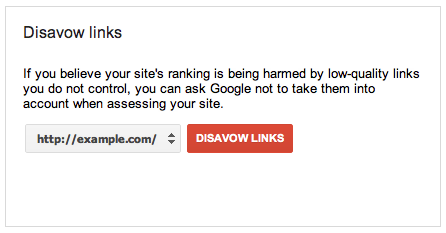 Now confirm that you really want to devalue links.

You will then be asked if you would like to upload a .txt file containing the links to be disavowed. Another warning appears. Google doesn't want you to remove links by mistake.
This is an advanced feature and should only be used with caution. If used incorrectly, this feature can potentially harm your site's performance in Google's search results. We recommend that you disavow backlinks only if you believe you have a considerable number of spammy, artificial, or low-quality links pointing to your site, and if you are confident that the links are causing issues for you. In most cases, Google can assess which links to trust without additional guidance, so most normal or typical sites will not need to use this tool.
The file type must be .txt and it must be encoded in UTF-8 or 7-bit ASCII and should contain the links you wish to disavow – one link per line.
The text file can also contain additional information pertaining to the excluded links. Each line which contains descriptive text should start with the # character (all lines prefixed by the # will be ignored). Don't upload an entire list of links to your website; the text file should only contain those links which you would like Google to ignore.
Here is an example of how your file should look:
# example.com removed most links, but missed these
http://spam.example.com/stuff/comments.html
http://spam.example.com/stuff/paid-links.html
# Contacted owner of shadyseo.com on 7/1/2012 to
# ask for link removal but got no response
domain:shadyseo.com
Source: Google Webmaster Help
It can take several weeks for the links to be disavowed. Don't forget that the links will still appear in the Search Console under "Incoming Links", even after they have been disavowed. XOVI will also continue to flag up detected links in its Link Tool, regardless of whether they have been registered via the Disavow Tool or not. After all, the links are still to be found on the external website.
A) Disavowal can be reversed – but it takes a while.
To reinstate disavowed links, delete the links which you would like to reactivate from the text file and re-upload the new file. Older versions of the file will be deleted and only the new list will be valid. The next time the Googlebot visits the domain providing the links, the disavowal will be reversed and the link will be once again be taken in consideration. Just like the disavowal of links, their reactivation can take weeks, and the effect of the disavowal can persevere a while.
B) The domain providing the link will be unaffected by a report via the Disavowal Tool.
According to Google, reported links to be disavowed do not lead to a punishment for the webmaster of the domain on which the links are hosted. This would indeed be fatal for the hosting domain, since links on the same site which link to other websites could actually be very helpful and not harmful at all. In hosting links on their website, webmasters are not doing anything wrong.
Conclusion
The Disavow Tool is a very effective tool, allowing webmasters to remove harmful links and clean up their link profile. To do this, Google effectively places an invisible NoFollow tag on links. But be careful; it's easy to accidentally get rid of good links too. Always try to remove the link yourself first or have it removed by a webmaster, only enlisting Google's help as a last resort.
In the following video, Google's Matt Cutts explains the features of the Disavow Tool. The video was initially shot when the tool was first introduced in October 2012, but is still very much valid today.