In search engine result pages (or SERPs), the snippet is the first impression of your offer a user sees. Whether it "clicks" with the user, depends not only on the position of your snippet in the SERPs. For love at first sight, the snippet needs to be perfect. But what exactly does that mean?
Understanding User Intention and highlighting USPs
To optimize snippets successfully, you have to know your users well and understand the intention behind their search query. What is the user looking for and what do they want? The search query and the underlying wishes are connected, but are usually not the same. The art lies in combining both by optimizing the title and the description of your snippet.
Show the user that you
offer what they're looking for
fulfill his wishes
Imagine the following scenario: Valentine's Day is approaching. Mark wants to surprise his sweetheart at work by sending her flowers. He doesn't have time himself to buy a bouquet and swing by her workplace. The solution: He orders a bouquet online and has it delivered.
Mark is now searching for suitable offers online using the keyword "flower delivery". The search results bear a whole list of florists or flower delivery services who offer what he is looking for: Flowers that can be delivered to his girlfriend. Okay.
He's skimming the snippets. Will Mark choose Flying Flowers? After all, the vendor offers what he is looking for.

Or will Interflora be the service of his choice?

Mark will most likely choose Interflora. Why is that? Let's take a close look at the snippets.
The description is your chance to convince the searcher of your offer. USPs (Unique Selling Points) are crucial for your snippet to stand out in SERPs and convince the searcher of your product. In other words: you need unique selling points that meet the user's wishes. And you need to meet them fast, since the attention span on the web is really, really short.
Dont. Make. People. Think.
At least, please, don't make them look for selling points.
Flying Flowers hardly makes a convincing statement. They have not or maybe just badly optimized their snippet. The beginning of the description needs to contain useful and convincing information. Here, it is wasted on a result summary that tells the searcher absolutely nothing. This might be due to technical settings of their website. Still, there's a lot of potential lost here.

What is more, the results summary takes available characters off the description. The sad result is cut off text that could otherwise have been there.
Should Mark take the time to read the description and not simply skim it, he actually gets some information: The flowers are fresh and there's Same Day Delivery
Interflora, on the other hand, offers Mark unique selling points that are more likely to satisfy his wishes.

Order flowers online
Same Day Delivery available
Order before 3pm
Handmade bouquets
Local florists
Hand-delivered to the door
Writing perfect snippets with AIDA
What has Interflora done right? The flower delivery network has optimized their snippets according to the AIDA principle. AIDA stems from advertising psychology and represents the central goals of advertising. The acronym stands for the terms Attention, Interest, Desire and Action. The goal of snippet optimization is to trigger these four states – always keyword optimized as well, of course.
| | Intention | Interflora |
| --- | --- | --- |
| ATTENTION | Catch the searcher's attention | Five Star Rating catches the eye and builds trust |
| INTEREST | Keeping the searcher's attention, building relevance | "Same Day Flower Delivery" offers quick problem solving |
| DESIRE | Make your offer irresistible | USPs such as "Handmade" or "delivered by local florists" add value to your offer. |
| ACTION | Get the searcher to actually click on your snippet | CTA "Order by 3 pm" (for Same Day Delivery) builds pressure |
Avoid short clicks
As tempting as it may be, don't promise anything you can't keep. Your snippet should encourage the user to click and increase the CTR (Click Through Rate). Unlike the meta-description, the click rate has a direct influence on your site's ranking. But beware: If you can't fulfill the user intention on the landing page, you will ultimately only harm yourself.
Irresistible promises in the snippet may increase your click rate. But if those promises are not kept, users will be gone again just as quickly. Search engines such as Google notice these "short clicks" and read them as bad user signals. Even a high CTR cannot help you here and your ranking will drop.
Short and crisp: Length of title and description
The length of title and description depend on the user's device. A desktop has a far bigger display than a mobile phone. That is why mobile snippets often are significantly shorter than on desktop. The width of snippets is measured in pixels, not in characters. Therefore, there are no fixed limits for the characters that are displayed within the description or title. For example, a "B" takes up considerably more pixels than an "I".
Nevertheless, there are guidelines you can use:
The title displays approx. 65 characters.
The description allows approx. 135 characters.
You want to use at least 100 characters for a 2-line-description. A one-line description decreases the potential for attention significantly, since it takes up less space than other snippets.
Snippet Optimization: Your Checklist
Your title begins with you main keyword
Title length does not exceed 65 characters
Keep your description between 100 and 135 characters
Checkmarks catch attention and highlight USPs (use in moderation)
USPs strengthen your offer and increase desire
A CTA increases clickrate
XOVI SERP Snippet Generator helps optimizing snippets
Search engines usually (but not always, though) use the respective meta description as a snippet. The meta description is usually provided in your CMS Backend. But it's hard to guess what your snippet is going to look like live. After all, it can take a while until Google crawls your site and updates your snippet.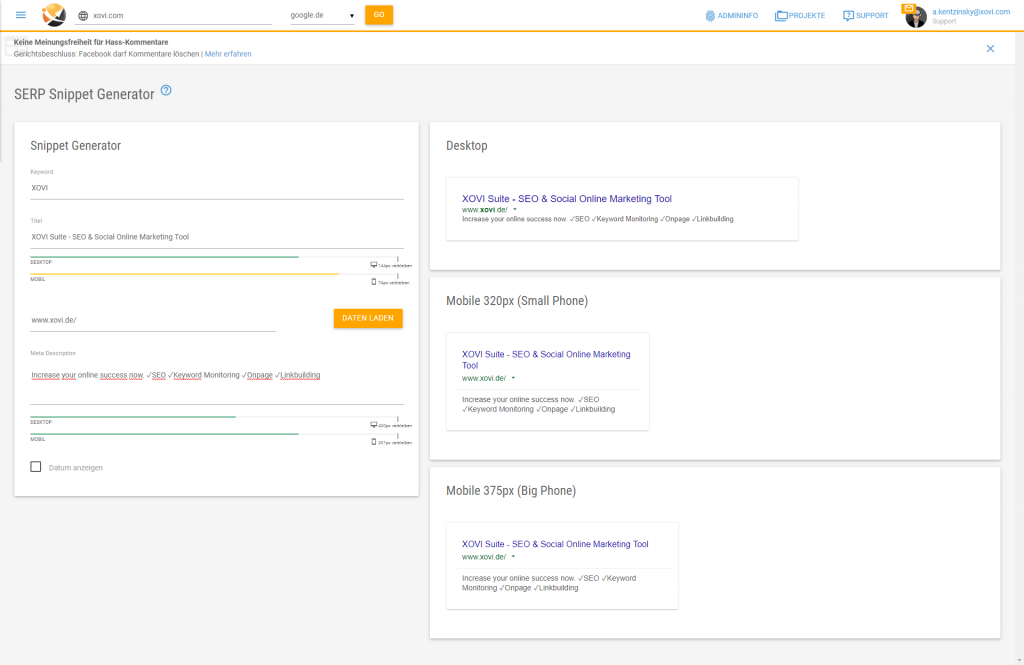 That's where XOVI comes in. The allround Online Marketing Tool offers a SERP Snippet Generator. You find it in the Onpage area. XOVI Suite automatically loads the meta description from your respective URL. Simply enter your text in the Snippet Generator and get a snippet preview for desktop and mobile phones. Check whether you used the AIDA principle efficiently and included your Keyword and USPs. See if your description has an appropriate length or is cut off on a device.
Once you're happy with the result, simply copy and paste your optimized snippet text into your backend.
And you're done.
Keep an eye on your stats and check whether your CTR and probably even your ranking increases.
Happy optimizing!