Where are the ten most sought after places on the planet? On the first page of Google of course! It might be an old SEO joke but there's certainly some truth in it.
There are over 3,600,000 businesses in Germany alone – of which 66% own a website. That means that over 2,376,000 businesses want their products and services to be positioned on the first page of Google. And then you have the countless blogs and news sites with their rankings. The competition is fiercer than ever for those top ten spots, which always seem to be dominated by rival sites.
But there is one SEO strategy which can catapult you onto page one of Google in the blink of an eye – well, in one to two weeks. Sounds like hocus pocus but I've tried it time and time again and I promise you: it works!
In this article, I reveal step by step how you can push your rankings higher and onto page one of Google.
What do I need?
This method couldn't be simpler. All you need are a few clever tools from XOVI, the following instructions and a little bit of patience! XOVI, by the way, can be tested for free for 14 days – more than enough time to enjoy the final results!
Discover your ranking potential with keyword analysis
In order to get an idea of your own strengths and weaknesses, the first step is to take stock of where you are in terms of SEO. A thorough keyword analysis helps to identity your website's potential. Here's how it works:
Enter your domain and click GO.
When asked "activate project" click on YES and carry out the steps.
Once you're done, head to keywords > all keywords in the main menu.
You now see a list of all the keywords with which relevant website URLs rank in Google. XOVI's data is based on the biggest keyword set in the world – consisting of 25 million keywords. Nevertheless, it can still be the case that some keywords, particularly so-called brand keywords (such as company or brands names) don't appear in the list. If you find that certain keywords don't appear, then they aren't contained in XOVI's keyword set.
The keyword list is filtered by position so that you can see immediately which keywords rank your domain highest. If they rank between positions 1 and 10, then you've done everything right. The URLs which rank 11 to 30 are more interesting – Google clearly likes this content and you're just a click away from landing on page one.
Identify keywords with the most potential
The keywords with most potential are those which already rank your website on pages two and three. These are the ones to focus on – but take the following factors into account:
Position between 11 and 30
High search volume (the higher the search volume, the more traffic the keyword can bring)
In this example, let's focus on the keyword […] which is ideally suited for optimization to push it onto page one.
WDF*IDF – identify content weaknesses and optimize!
Identified a keyword for which you would like to be positioned on page one? Good work – now it's time to work out where your content doesn't quite match up to this keyword and what you can do about it!
This is where the WDF*IDF text analysis tool comes into play. The WDF*IDF tool conducts a text analysis of all content which ranks for a particular keyword and compares it to your own content. This enables you to see which important keywords are missing from your content and which words or phrases should appear more frequently.
Head to On-Page via the main menu on the left-hand side
Click on Text Optimization (WDF*IDF)
Click on overview
Start a new optimization by clicking on the orange button and following steps 4-6.
Select project
Enter ranking URL for the selected keyword
Enter the selected keyword and click on START.
When the analysis is finished, the results can be seen by following the blue link.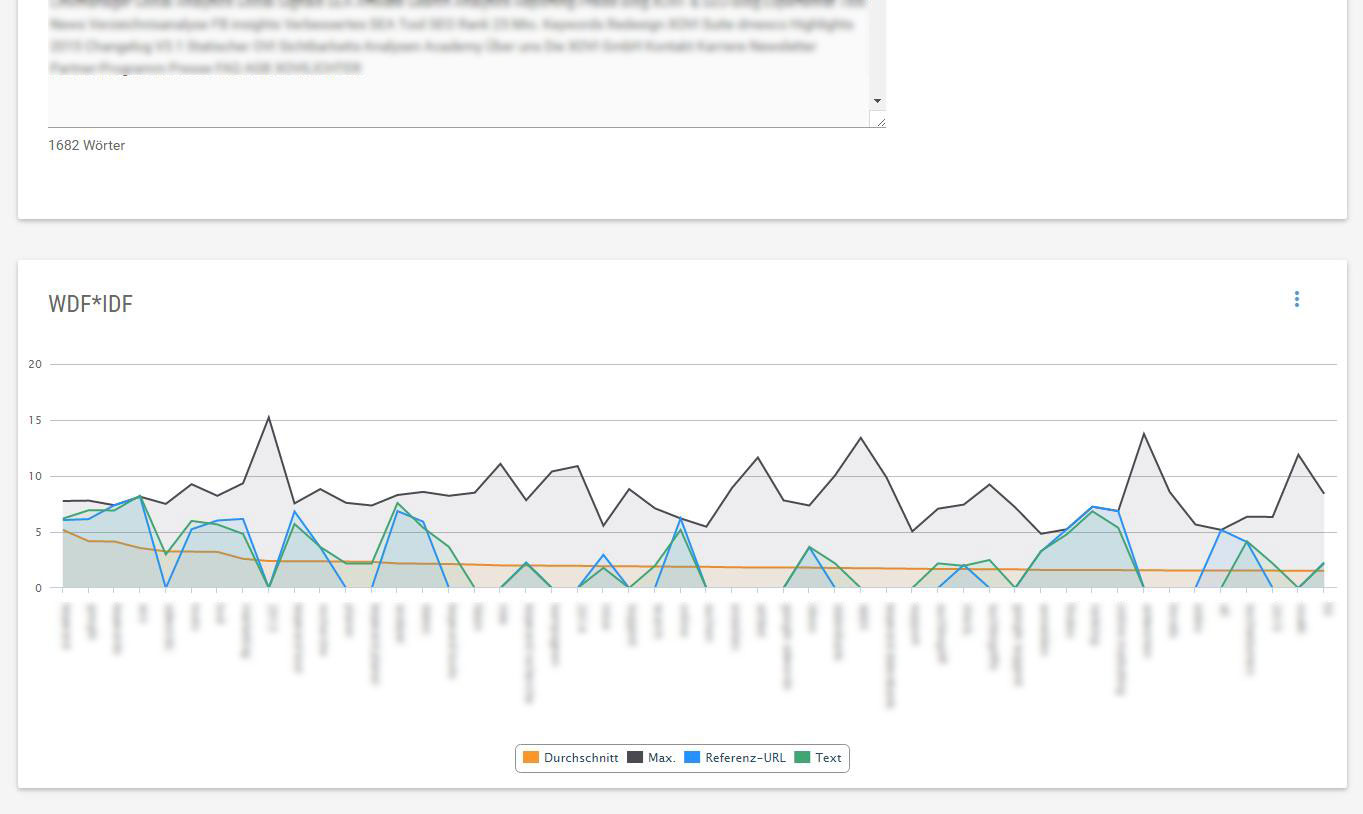 You will now see a list of keywords with colorful bars which you now need to interpret:
The most important keywords are shown on the far left
Keywords further to the right are less important
Not all keywords are relevant – if you don't do any social, then social media related terms aren't going to be important
Competitor keywords are likely to appear – you don't necessarily need to focus on them
The orange curve shows the average WDF*IDF value
The blue curve is your URL's WDF*IDF value and should ideally be higher than the average
For your most important keywords, your blue curve should reach the maximum value, depicted by the black curve. But not any higher, otherwise you risk Google penalizing it as spam!
I now recommend importing your content from your URL into the tool by clicking on "load content." A green curve now appears on the chart representing the keyword density of the text you have just imported. You can now add additional keywords to your text bit by bit and watch how the keyword density develops in real-time on the green curve. When your text's green line matches the black max line, you know exactly how often certain keywords need to appear in a text in order for it to rank higher. Make the necessary changes to your content and re-load.
IMPORTANT: Under no circumstances should you delete text – this is the content which the existing rankings are based on in the first place! Additional text must be added below!
Google actively looks for the good, rounded content. When a topic is dealt with comprehensively and professionally, content has a higher value in the search engine and will logically rank higher.
Other than the optimization method described, I haven't taken any additional steps. The ranking development can be followed "live" and in real-time so you can always keep track of live changes.