Vouchers are a popular means of attracting prospective customers, reactivating former customers and increasing sales figures. Voucher marketing is particularly popular online. Vouchers, for example, are attached to orders in order to encourage customers to make new purchases. In addition to the classic package inserts, e-mail marketing is ideally suited for the targeted distribution of vouchers. Johannes Kohlmann from Newsletter2Go explains how well vouchers perform in newsletters and what you need to consider when creating voucher campaigns.
Bargains feel good
Factors such as quality, design and price play an important role in the search for the right product. Often the price tag is the reason not to buy the desired product just yet. Many feel inclined to wait and see if they find it for a better price or get their hands on a voucher. If the purchase decision comes to a standstill, personalized vouchers can help to overcome the hesitation. According to a survey by Statista, 34% of respondents use vouchers several times a month and even 12% several times a week.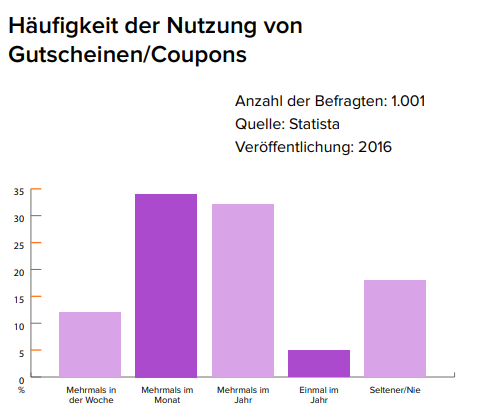 Purchasing a product using a voucher is in no way associated with greed. For example: A personalized 10% voucher for a favored product gives buyers the feeling of a good deal. The positive attitude to the discounted purchase does not only affect the purchase decision but also the perception of the shop that issued the voucher.
Newsletter vouchers are popular
According to a study by DV Deutschland Voucher (a German company specialized in online and offline vouchers), 37% of respondents prefer to receive vouchers online. The advantages over print vouchers lie in their user-friendliness. With just a few clicks, online vouchers can be redeemed instantaneously.
Voucher marketing in newsletters is extremely efficient. In a survey conducted by Newsletter2Go, 39% of customers say that they used at least one newsletter voucher within the last three months. 14.9% used 2 to 5 vouchers, 6.2% redeemed more than 5 vouchers within the last three months: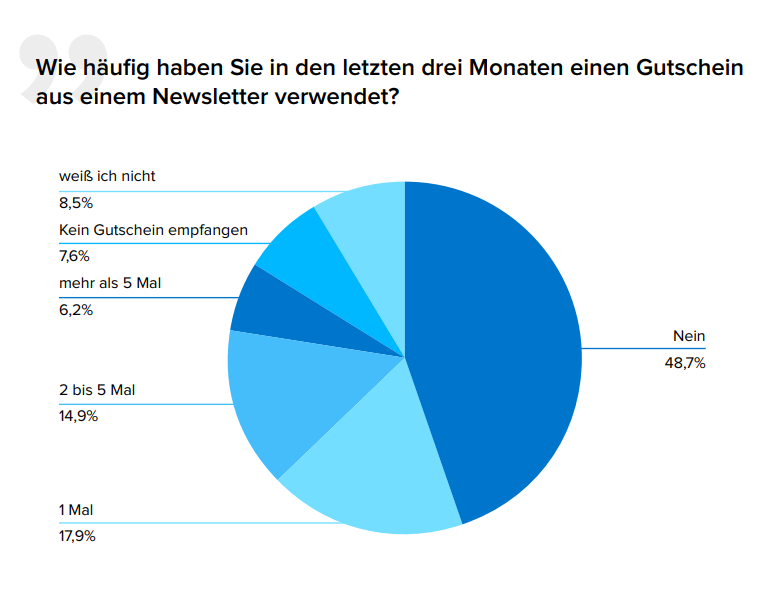 The study also researched the customer spendings involving vouchers. 32% of the participants stated that they spent more than 50€ on orders using vouchers within the last three months. Almost 10% said they spent more than 250€.
5 tips to consider when sending out vouchers in newsletters:
Don't send vouchers just like that. A targeted strategy will help you send vouchers to the right person at the right time and maintain the appeal of your discounts. Here are 5 tips to make your voucher trategy successful:
Tip 1: Use exclusive vouchers
Do not use vouchers inflationary, otherwise they lose their charm. If there are new vouchers on your entire assortment every week, your discounts are nothing special anymore.
Tip 2: Make a conscious decision for the amount of your vouchers
Think about the amount of your vouchers before you send them. The amount of the discount has a considerable influence on how attractive the voucher is for your recipients. At the same time, it also influences your turnover. Depending on the voucher campaign and target group, you should consider how much discount should be used to achieve your goals.
Tip 3: Make a conscious decision about the validity of your vouchers
The validity of your vouchers influences whether and when your vouchers are used. In the case of vouchers with a short validity period, it can happen that interested parties do not make the purchase in time. At the same time, high discount campaigns over a short period can have a particularly high appeal and give you a sales push at short notice. Thus, it is important to question the goal of your campaign and to decide the validity period consciously.
Tip 4: Use the information you have about your customers
The more recipients are interested in a product, the more effect your vouchers will have. Use the information you have about your customers. For example, send a reminder with a 10% voucher to shopping basket dropouts or use pictures of visited products of individual customers in your voucher newsletter.
Tip 5: Integrate vouchers into your email marketing strategy
Individual voucher campaigns are a good way to increase sales at short notice. However, vouchers should also be part of your email marketing strategy. Use vouchers, for example, in reminders of your customer lifecycle and react to individual actions of your customers.
A targeted voucher strategy helps you to win customers and bind them to your shop. E-mail marketing offers you the ideal opportunity to send vouchers to your recipients in a targeted manner. Would you like to learn more about newslettter voucher marketing? If you're fluent in German, check out the Newsletter2Go Voucher Whitepaper. It includes the entire study on vouchers in newsletters, as well as many other tips on how to integrate vouchers ideally into your mailings.