The WDF*IDF formula is used for the targeted optimization of website text. The days of basic keyword density are over. No longer does it matter whether 2-5% of a text with an average length of 400 words consists of a specific keyword. Nowadays, the actual quality of a text itself is paramount. After all, a text in which the keyword "Bio Carwash" appears χ times in a row is as difficult to read for Google as it is for users.
The Hummingbird update rendered this type of text composition obsolete and since then, text quality has left much to be desired. Content was the new order of the day, bringing with it its own problems.
Text analysis using the WDF*IDF formula
Here at XOVI, we have developed the perfect solution in the form of our WDF*IDF formula, which enables our users to analyse a website in terms of a particular keyword and compare it to the strongest competitors in a selected search engine. For more information on launching a new optimization, have a look at the video:
XOVI's WDF*IDF tool allows users to select so-called Stop Word Filters. The standard setting contains smaller words such as "the, a, and, in, out, with, for", etc. The strict setting contains words commonly found on most websites which you might as well exclude from analysis such as "about, disclaimer, terms and conditions, contact us, Ltd." A complete analysis allows you to identify which URL is best positioned for a particular keyword and provides a reference URL. From this, you can determine the value at which a text becomes genuinely valuable or, in other words, interesting for the reader.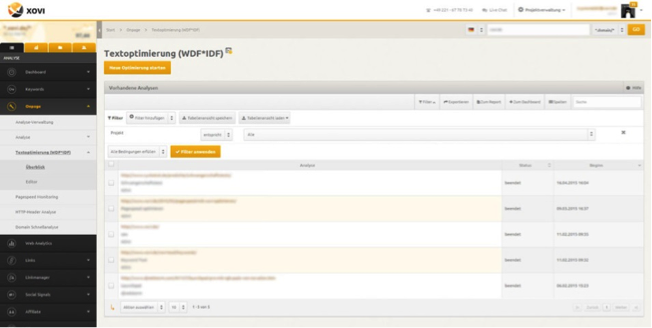 The WDF*IDF tool from XOVI also displays the number of analysed websites on which a keyword should appear in order for it to be included in the next data update, as well as the type of keywords which should be updated for analysis.
Live preview in the WDF*IDF Tool
With XOVI, you can also upload and work with content for a URL or new text. The WDF*IDF Chart provides an accurate impression of how you are positioned for particular keywords in relation to other websites and their prevalence.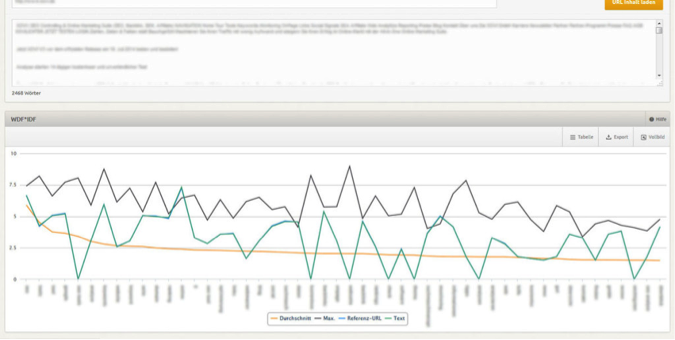 Ideally, your text line should always remain between the average and the maximum. If the line for your particular keyword is below average, then enter the keyword in the text field and find out how often it ought to appear within text to achieve its optimal potential. The software might also reveal additional keywords which you had forgotten or had been trying to identify and which are ideal in the context of your website!
The WDF*IDF Tool can be found via the OnPage section. And don't forget, our support team are also ready to help you via phone, live chat or e-mail should you have any queries!