In e-commerce distribution, there are various different ways of transporting goods to customers, and the online shopping world provides countless different possibilities. There's the classic method used by online traders who maintain their own storage with all their products and carry out distribution themselves. This means they are responsible for both the marketing of products online as well as taking orders and dispatching products to customers.
However, storage can often be expensive and time consuming – especially for successful traders who sell and dispatch a large number of products on a daily basis. The size of certain products can lead to even higher storage costs or separate dispatches – often at additional personal expense.
This is why an increasing number of manufacturers and traders are turning to "drop-shipping." Which is what, exactly? Drop-shipping is a form of product distribution where the online trader doesn't store the product themselves, but rather forwards any orders directly to their wholesaler, who then take over distribution. The online trader never sees the product and is simply a middle-man.
Advantages for online traders:
No storage necessary
No sales risk
No responsibilty for distribution
Neutral or even branded packaging
Shorter delivery times
Cost-saving on storage, distribution, etc.
No minimum sales threshold.
Since goods offered in an online shop don't need to be pre-purchased, drop-shipping is particularly useful for start-ups, allowing young businesses to get started without risk.
Another huge advantage of drop-shipping is the model's flexibility, allowing business owners to build up their stock portfolio step by step without taking the risk that a product doesn't sell and becomes a costly shelf-warmer. Instead, it offers the possibility of testing out which products are best suited before taking on greater quantities.
How it works
Customer places an order in online store
Online retailer purchases the product from the wholesaler
Wholesaler handles distribution directly to the customer
Customer pays retail price to the retailer
Retailer pays wholesale price to the wholesaler
Retailer retains margin and makes profit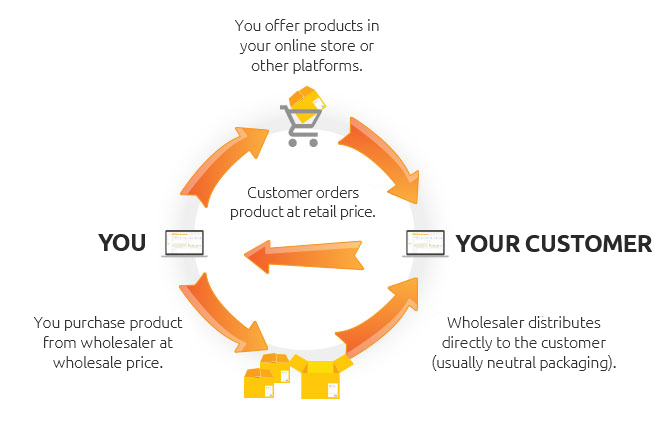 e product quicker since it comes directly from the wholesaler. And for the wholesaler, drop-shipping represents an additional sales channel – after all, there is an endless number of online stores.
Nevertheless, there are certain risks and disadvantages which shouldn't go unmentioned …
1. No saving on retail price
Let's assume two retailers want to purchase the same product from the same wholesaler. The retailer with their own storage facility is in a position to negotiate a large quantity all at once and therefore a cheaper unit price. The drop-shipping retailer on the other hand is effectively purchasing individual units on an ad-hoc basis. And so, while both retailers' turnover might remain the same over a particular period, the higher individual unit costs of the drop-shipping retailer will eat into profit.
2. Returns
The subject of returns affects both classic retailers with their own storage facilities as well as drop-shipping retailers. Classic retailers have already purchased the product for their own storage and so a return is merely a reduction in profit rather than a financial loss. The drop-shipper on the other hand needs to determine whether an unwanted product should be returned back to the wholesaler (entails extra costs if indeed at all possible) or back to the retailer, who then effectively has to pay for the product twice, having already purchased it from the wholesaler. All that's the missing is that key customer payment!
3. Dependence on wholesaler
Drop-shipping retailers are dependent on their wholesalers and good communication is necessary to determine the availability of products. After all, the retailer is responsible for the marketing and the upkeep of the website where product availability and delivery times must be as accurate as possible. But since the drop-shipper can't influence these directly, they are reliant on their wholesaler.
4. Quality assurance
Online retailers who distribute using drop-shipping never actually see the products they sell. They constantly need to carry out quality control to ensure that the wholesaler is providing and distributing acceptable products as they have been advertised. For the customer, the online retailer is the product provider. They never find out that the goods actually come directly from the wholesaler. So you are responsible!
Multiple marketing channels
Drop-shipping isn't only suited to single online stores; multi-channel drop-shipping is also possible via platforms such as eBay, Amazon (fulfilment by merchant) and other online marketplaces. The principal as described above remains the same.
However, when using these channels, make sure you keep an eye on additional costs – usually a form of commission which should be included in your general costings, and which wouldn't normally be due. As a drop-shipper selling products via such online platforms, you either need to cover your costs with a higher retail price or accept a smaller
profit.
How can I find a drop-shipping partner?
Having decided that drop-shipping is the model for your business, it's time to identify a suitable wholesaler who a) stocks your product and b) offers drop-shopping. Various platforms have sprung up which connect retailers with drop-shipping wholesalers.
Conclusion
Drop-shipping can be an excellent solution for retailers who are just starting to build up their business and don't want to take on the risk of purchasing large amounts of stock which is expensive to store if it doesn't sell. But despite all the advantage, it's more important than ever to take all the facts and figures into account when making a decision – even drop-shipping has its drawbacks! Make sure you consider all your options and communicate and negotiate with drop-shipping partners, otherwise you could just be throwing money away.